Keeping your youngest children happy and engaged while having to stay indoors can be a tough challenge even for the most creative parents out there.
Lucie Kahn, The Connection's Youth Specialty Director is currently developing and testing in real-time, great ideas to keep everyone learning, having fun and staying healthy along the way.
"Let me preface that these are not intricate or time-consuming lesson plans from Pinterest. I get ideas based on what I have in my house with minimal supplies and planning" says Lucie.
"Sometimes we add a daily letter, outside play, or circle time in the morning to keep my daughter's routine.
Themes are helping me stay focused and think of ideas on the fly when we need something quick. It also makes Charlotte really excited to wake up every day and hear about the activities we have planned. She also loves thinking about the theme and thinking of her own activities (which is super helpful)!
I'm about open play, exploring, creating. Whatever an activity leads to is even better. These activities are not structured or forced."
Take a Trip to Fairyland!Learning About Our SensesHave a Beach DayBe a Doctor DayCook like a Chef DaySleepover PartyFrozen Day
Take a Trip to Fairyland! Theme Days for Little Kids
This was a great week – mostly because we visited a lot of local spots. This week is Fairy Week!
The girls traveled around to various beautiful locations and made crafts all related to fairies.
1st stop – The girls hiked the South Mountain Fairy Trail in Milburn, NJ. The fairy trail was an art installation that grew to a popular spot for fairy spotting! They investigated various fairy houses for inspiration!
Once home, they wrote a letter to the fairies on Shrink a Dink paper, which we shrunk to their size and left it on a tree for them to read.
2ns stop – We visited Reeves-Reed Arboretum in Summit, NJ to collect fallen flower petals, leaves, and acorns for our fairy soup and fairy house.
Another good option for collecting ingredients is Presby Iris Garden in Montclair, NJ.
To make Fairy Soup, you will need:

Colored Water
Glitter
Flower Petals
Leaves
Acorns
Other natural elements that you have!

Create your own Fairy! We designed and decorated our fairy and had her fly to different hide and seek spots throughout the day for the girls to find. (ala Elf on the Shelf)
For our own fairy outfits, we created crowns and wands. Again, Pinterest is your friend!
Next, you need a home for your fairy friend! Create a fairy house using a shoebox or you can purchase a pre-made home. Decorate the home to make it comfy for your new friend!
Is everyone tired from all the exploration? Time to settle down and watch a fairy themed movie.  We watched Tinker Bell and the Great Fairy for more inspiration.
We hoped you like this theme day! Please share YOUR fairy creations with us and tag us on Facebook and Instagram. Until next time!
Today we are exploring our five senses and learning about how we use our senses to explore the world around us.  We will learn about our five senses and work on identifying each one with a different activity.
Sight
Eye-spy is a great game to play when you have to stay home.  Line everyone up at a window, and let's see what you see. Turn this into a color scavenger hunt! Give the kids 5 minutes indoors or outdoors to find one object for each color of the rainbow.
Hearing/Touch
Feeling cooped up in the house? This is a great time to get outside and explore more senses.  Have the children close their eyes and sit down or lay in the grass.  Have them try to be quiet for one minute and then identify what they hear.  Do they hear birds? Bugs? What do they sound like? Is that the garbage truck driving by? Are kids playing in a neighboring yard? Have them make a list of each sound they hear.
They get a bonus if they also identify their sense of touch! Do they feel the grass under their hands? The bark on the tree? The heat from the sun on their skin? Is it starting to rain? There is so much to explore.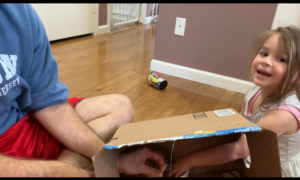 Another fun touch sensory activity is playing What's in the Box?
Taste
Time for a taste test! Find a bandana or tie, and cover your eyes.  Choose three food items for our tasters and see if they can identify the food based on taste.  Bonus points if they use their sense of touch and smell! Some healthy food ideas: roasted brussel sprouts, rice cakes with cream cheese, sunbutter on apples, or bananas. Be creative!
Smell
Next, let's explore our sense of smell. Katie and her helpers made this great video about making smell jars!
Grab five small jars or bowls from the kitchen, and fill each one with a smelly item.  You can get really creative! Maybe you choose pickles, or cinnamon, or toothpaste? Once you have chosen your five smells, cover each jar with cling wrap to keep the smell fresh. Blindfold the participant and have them smell each bowl one at a time, and see if they can identify the smell.  Which did they like? Which did they not?
Here are some more great smelly ideas from Scholastic for exploring our sense of smell.
To wind down your exploration of the five senses, why don't you read about Helen Keller, a famous advocate for those blind and/or deaf?  Another fun and enriching activity can be to learn the alphabet and sign your name in American Sign Language.
That's it for today! We hope you had fun exploring the five senses with us. If you have any questions or have an idea for a theme day topic, please email Lucie.Kahn@theconnectiononline.org.  Take care and be well!
The beaches may be closed and the weather may not be ideal, but that doesn't mean we can't enjoy a Beach Day! Youth Specialty Director Lucie Kahn has some more kid-fun activities to pass the time when you have to stay inside.
As with each theme, your outfit is important! Lucie's daughter Charlotte picked out everyone's beach clothes. Whether that is a bathing suit, sarong, or comfy linen pants, that is up to you!
Time to set up your beach. Lay down blue and tan blankets for sand and water, or get out your beach towels, chairs and umbrellas if you have space. Set up a cooler with drinks and when the kids start to get hungry, nothing says beach food like goldfish!
Pick out some beach reads like Curious George Goes to the Beach, How to Hide an Octopus, or Mister Seahorse.
For hands-on activities, you can make edible kinetic sand! Mix:
1 cup cornmeal
1 cup flour
2 tbsp corn syrup
Add optional food dye
When they start to get antsy, try these fun active activities:

Surfing lessons! Use a beach towel or an ironing board laying flat on the floor.
Have a dance party while listening to The Beach Boys.
If the weather is nice, and you have space outside, grab a beach ball and learn to play volleyball!
Put magnetic or plastic letters into the tub with water, and let them fish the letters out with various kitchen tools.
Once it is time to wind down, why not cuddle up and watch a beach movie, like Surf's Up or Lilo and Stitch.
We hope you enjoyed your sunburn-free beach day! Send us a picture of you and your family enjoying any of these activities. We would love to see you!
Theme Day #4 is here to help you stay healthy! Roll out your stethoscopes because today's kid activity is Doctor Day!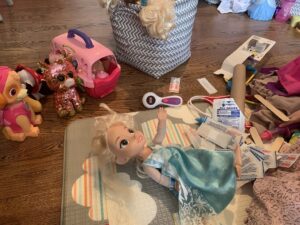 As always, you need to look the part.  Dress up in your doctor jacket, and find your bag with your doctor's tools. You can make your own DIY doctor's kit, as well! Maybe today you would like to be a veterinarian or a dentist? The options are endless. Try setting up stations for your children to rotate through. Remember, for any activity, Pinterest is your friend.
Here are some fun activities for your youngest medical students:
When the kids get hungry, we have the perfect anatomy snack. Make a skeleton marshmallow treat! Build skeletons with large and small marshmallows and toothpicks.
As a thank you to our healthcare and frontline workers, you can have your kids decorate craft paper with rainbows or make thank you signs to put in your window.
To wind down after a fun afternoon of playing doctor, cuddle up and watch Doc Mcstuffins or Doctor Doolittle. Make sure to ask questions and keep them engaged!
Today's theme is a good opportunity to spend some time talking to your kids about COVID-19 and what is happening in the world today. Why they can't see their friends or go to school.  If you need more talking points on how to approach this conversation, check out Lucie's video on How To Talk To Your Kids About The Coronavirus. Also, check out her video on How to Talk to Kids About Germs.
As always, stay happy and healthy!
Theme Day #3 is perfect for the miniature foodies in your family. We present…Chef Day!
First-step, you must look the part!
Grab aprons, or

make your own out of tea-towels

.

All chefs must have a hat! To make your very own chef's hat, take a large piece of craft paper, long enough to wrap around the child's head.  Have them decorate their hat with markers, crayons, paint, or stickers. Next, measure to fit and staple the two sides of the paper. Instant culinary professional!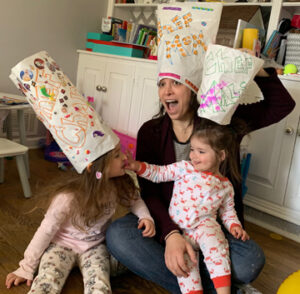 Next step, you must gather your ingredients and collect your recipes.
Shop for ingredients. You can have your kids play shop in a pretend kitchen with pretend food, or if you are feeling adventurous, have them shop in your pantry.

Grab your family cookbook and take time to read through various recipes with your children.  
Next, it is time to cook!
Help the kids make up their own recipes and encourage them to try new combinations! Black beans and ice cream or Greek yogurt and red peppers, let them experiment and ask "Does this taste good with this?".
Maybe they would like to be a dessert chef? Explore cake decorating or chocolate drawing.  Maybe your foodies love sushi and would like to be a Sushi Chef. Try making banana or marshmallow sushi bites. And if you are looking for a little less mess and cleanup, you can't beat Playdoh Chef!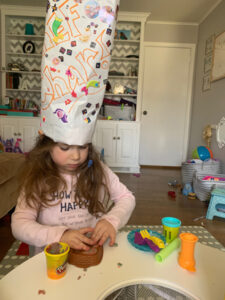 Another sensory cooking experiment that you can try is making good, old fashion mud pies! Soak chia seeds in water overnight, drain excess water and start assembling.
Once cleanup is finished and all the food is put away, stay in the mood with a family movie night and watching Ratatouille or Be My Chef on Disney+.
We hope you are staying healthy and happy during this unusual time, and we will be back soon with more kid-friendly activities to keep them occupied!
Our next theme is a kid-favorite: A Sleepover party!
The first thing to do is to set the scene. 
Pick out and put on your silliest or favorite pajamas. Frozen pajamas are big hits in our house.
Have your favorite breakfast foods for dinner!
Set up a sleeping bag, pillow or tent for pretend play.
Work on some arts and crafts to practice their fine motor skills.
Next, set up a home spa activity. Self-care is important for all of us!
Make homemade face masks and foot soaks to relax.
Put your hair up in curlers for a retro-look!
Maybe everyone needs a manicure, including Daddy! Breakout the polish and have the kids go to town.
Most importantly, remember to have fun!
Remember, these theme days aren't meant to be complicated. Use what you have around the house, and don't worry, your kids will have a blast!
We hope you enjoyed this sleepover activity day! If you have a theme or fun project idea of your own, drop us a line on our Facebook account The Connection.
We will be regularly sharing new themes and activity plans for you to try at home. So, keep checking back on our blog or follow us on Facebook and Instagram to get the latest. Stay happy and healthy!
Our first theme honors
Frozen Day
, which is the day that Disney released Frozen 2 on Disney+. This is a big day for Elsa and Anna fans everywhere. To celebrate Frozen Day, we have a wealth of options for you to choose from. Just mix and match and your little one will be vibrating with excitement!
Pick out a favorite outfit! The proper costume is always important. This could be Elsa, Anna, Sven, Kristoff, Olaf, or whatever they are feeling that day.
Hold a Freeze dance party or sing karaoke to songs from Frozen!
Did you know there was a Frozen Yoga routine? Check out Cosmic Kids Frozen Yoga to get a little exercise and storytime.
Create glitter sensory bottles or picture snow globes for some quiet-time creativity.
Get outside and hike to the North Mountain (or around the block).
3D snow paint artwork (equal parts glue and shaving cream. Dries puffy)
Hungry for snack time? Make popcorn with Parmesan "snow" to enjoy while you…
Watch and enjoy Frozen 2
We hope you enjoyed this Frozen-Day activity theme! If you have a theme or fun project idea of your own, drop us a line on our Facebook account The Connection.
We will be regularly sharing new themes and activity plans for you to try at home. So, keep checking back on our blog or follow us on Facebook and Instagram to get the latest. Stay happy and healthy!