The Connection Dance & Performing Arts Program offers classes from ages 1 1/2 through teens. We offer both recreational and competitive programs taught by our expert staff. Our dynamic instructors will help your child develop the self-discipline and confidence to perform while having fun and creating friendships with fellow students. In our dance classes, children will gain flexibility, strength, technique, and performance skills. In our performing arts classes, children will use their creativity to explore aspects of the theatre arts.
Our comprehensive Dance & Performing Arts program culminates with a recital held in early June, featuring our adult and youth students.
The Connection is also home to The Connection Dance Team (TCDT). Click here to view more information about our award-winning team!
The Connection is proud to be a studio partner of the Zzak G Applaud Our Kids Foundation in providing performing arts scholarships to students ages 7-18.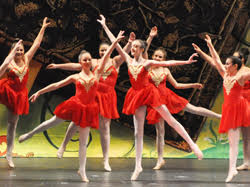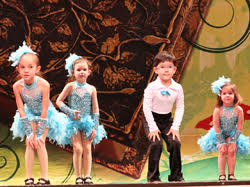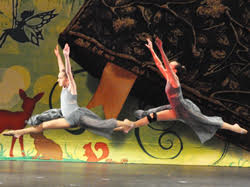 Click the link to each age group to view current class availability.
Itty Bitty Ballet | ages 1.5-3 + parent
With the care giver close by, students ages 1.5-3 will learn the basics of ballet while engaging in hands-on movement activities essential to proper development in coordination, counting and timing, and self-confidence.  Students will learn to stretch and dance through the use of exciting props such as dance scarves and ribbons. Shoes recommended: BALLET.
Movers & Shakers | ages 1.5-3 + parent
Boys & girls love to dance! Let them get their groove on in this fun-filled, action-packed class full of music, dance, games, and imagination! This class will encourage independence while working on gross motor skills, musicality, and following directions.
Tutu Tumblers | ages 2.5-3
This drop-off class has the best of both worlds – dance AND gymnastics! Children will practice motor skills while improving strength and flexibility, all while learning basic ballet and gymnastics. The class will include free dance with fun props, across the floor, jumps and leaps, and the use of gymnastics events such as the bars and balance beam. Tumble and move your body! Shoes required: BALLET
Ballet/Hip Hop | ages 3-5
This combo class gives children the opportunity to learn both ballet and hip-hop techniques while having fun! It includes free dance, stretching, ballet technique work, basic hip hop, and learning the fundamentals of putting together movements in a series. Dancers will also work on their rhythm spatial awareness, flexibility, and strength. Shoes Required: Ballet and Sneakers.
Ballet/Jazz | ages 3-5
This combo class gives children the opportunity to learn and practice ballet and jazz while having fun! It includes free dance, stretching, technique work, across the floor, and choreography. Dancers will also work on their rhythm, spatial awareness, flexibility, and strength. Shoes required: BALLET
Ballet/Tap/Jazz | ages 3–5
This combo class gives children the opportunity to learn and practice ballet, tap, and jazz while having fun! It includes free dance, stretching, technique work, across the floor, and learning the basics of putting together movement in a series. Dancers will also work on their rhythm, spatial awareness, flexibility, and strength. Shoes required: BALLET AND TAP

Hip Hop Flip Flop Beg.

 | ages 4 – 6  
Children will be introduced to basic Hip Hop through innovative and creative body movement from head to toe. They also Flip Flop through some basic cartwheels, rolls, and jumps. Children will stretch, work on their rhythm, and more all while having fun!
Tiny Dance Mix | ages 2-4
This (drop off) combo class will include a little bit of everything! From ballet basics to jazz, and age appropriate hip hop too – your dancer will do it all!
Princess Ballet | ages 2.5-4
In this drop off class  your little princess will explore ballet technique and movement. Each class will focus on a specific step or position which will be reinforced through coloring a picture of that image. As additional steps/positions are learned the dancers will begin working on putting movement together in a series. Children will also enjoy free and lead dances with the use of props such as scarves, crowns, and ribbons. Shoes required: BALLET
The Connection Dance Team | grades K – 12
The Connection Dance Team's (TCDT) mission is to build well-rounded dancers and encourages team building in a safe, fun and competitive environment. TCDT dancers are selected by audition in mid June each year. We have several competitive levels that work throughout the year for our late winter and spring performances and competitions. To receive more information about TCDT please contact the Dance & Performing Arts Director at Jessica.Fascenelli@TheConnectionOnline.Org
 
Acro Tumbling I & II  | ages 6+ and 8+
This class is perfect for dancers, cheerleaders, and gymnasts. Students will gain flexibility and develop their tumbling skills with the use of the floor exercise mat, blocks/equipment, and tumble track.
Ballet | ages 5 & up
This traditional ballet class will focus on the fundamentals of ballet through the use of barre work, center, across the floor, and choreography. Students will engage in strength-building movement while learning proper ballet techniques and terminology. *New students will be evaluated in their first class to ensure that they are in the appropriate class level.* Shoes required: BALLET
Ballet/Tap/Jazz | ages 5-7 and 7-9 
This combo class gives children the opportunity to learn and practice ballet, tap, and jazz. The class will include stretching, a full warm-up, technique work, across the floor, and choreography. Shoes required: All- TAP, Girls- PINK BALLET, Boys- BLACK BALLET
Dance Foundations for Special Needs | ages 5-14 
Children are introduced to basic dance techniques through innovative and creative body movement. Individual modifications to activities will be made as needed.
Dance Jam | ages 4-6
Our Dance Jam students will experience a fun and high energy dance class! From simple follow a-longs to popular dances to our staff's own choreography, your little mover will experience it all! The class will include a full warm-up and stretch, with the majority of the class focused on getting everyone moving.
Hip Hop (coed) | ages 7 & up 
This class is perfect for children who love to move! Through the use of innovative hip hop movement, they will improve their balance, coordination, and gain strength. Children will also stretch, work on isolations and learn creative choreography. Intermediate level classes will also learn the basics of popping, waving, tutting, and more! Shoes required: SNEAKERS.
Lights, Camera, Action | ages 6+
This class will offer your child hands-on experience creating a performance while learning to be a triple threat! They will learn songs, dances, some basic acting, and make a prop and costume.
Lyrical/Contemporary | ages 8-10 and 10+
This class will focus on both technical elements and expressive movements. Dancers will work on their flexibility, movement quality, and performance ability while practicing both lyrical and contemporary styles. Included is a full warm-up, stretching, center work, across the floor, and innovative choreography in both styles. Shoes required: TAN HALF SOLES
Pre-Pointe/Pointe | ages 9+
This class is for intermediate to advanced level dancers who wish to further develop their ballet training. Dancers will work on forming the proper strength required for pointe while working on ballet technique, proper alignment, and stamina. Please contact Director for placement.
Pointe | ages 11+
This class is for intermediate to advanced level dancers who wish to further develop their ballet training. Prerequisite: Pre-pointe OR 1 year of pointe. Please contact Director for placement. Shoes required: POINTE SHOES