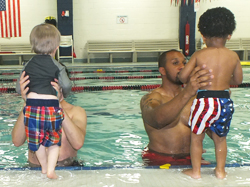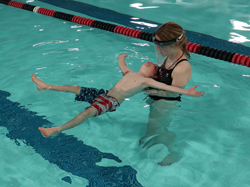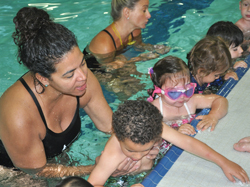 Click the link to each age group to view current class availability.
GROUP LESSONS
Parent Child | 6 mos-3 years + guardian


A class for the child who with a guardian is ready to develop basic skills in the water – bobbing, floating, gliding, and combined arm/leg movements, and jumps.
Intro to Swim


The timid first time swimmer will gain confidence in the water through personal water safety skills including: entering and exiting the water, proper body positions, and basic movement.

Level 1


The swimmer who is comfortable in the water, but cannot swim distances independently, will learn to effectively use arms/leg movement, glide, and float to further develop their skills.

Level 2


A class for the independent swimmer who can effectively coordinate their arm/leg motion. With this foundation, they will move on to perfecting rotary breathing and backstroke.

These swimmers learn to swim a distance of 15 yards.

Level 3


For the confident swimmer who has perfected freestyle, including rotary breathing and arm/leg motion and is comfortable swimming that stroke 25 yards. We will work toward the development of Backstroke, Breaststroke, and Butterfly.

Level 4


For the swimmer who is comfortable swimming all strokes and is able to swim 50 yards. We build confidence and endurance at this level and perfect the diving technique.
If you are unsure of your child's level, please contact the Aquatics staff at aquatics@theconnectiononline.org to schedule an evaluation of your child's swimming ability.
T.O.P.S (TALENTED OPPORTUNITY PROGRAM FOR SWIMMERS
Our Talented Opportunity Program for Swimmers is for students who have the potential to be on a swim team but may not feel confident enough or have the time to dedicate to a team. T.O.P.S will be offered multiple times a week with a minimum 2 day requirement.
PRIVATE SWIM LESSONS & CUSTOM CLASSES
Trained swim instructors work with children and adults to help them reach their individual goals. Goals can range from giving beginners confidence in the water to improving on an advanced swimmer's competitive techniques.
Private Lessons (1 student + 1 instructor), Semi-Private Lessons (2 students + 1 instructor), and Custom Classes (3-5 students in your "pod" + 1 instructor) are now available! Email aquatics@theconnectiononline.org for availability.
Private Lesson Availability
We are fully booked for private lessons. If you are interested in being put on the waitlist for private lessons, please email aquatics@theconnectiononline.org for a waitlist request form.
| Private swim lessons | prices |
| --- | --- |
| One Half Hour Swim Lesson | $50 |
| One Half Hour Semi-Private Swim Lesson | $75 |
| One Half Hour Custom Class (Build-a-Lesson) | $80 |