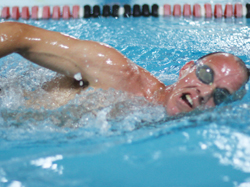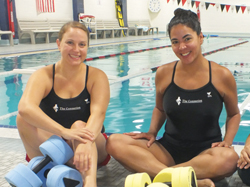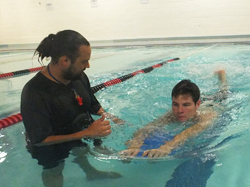 LAP SWIM
Enjoy time in our beautiful 5 lane, 25 yard pool! We offer many hours of lap swim throughout the day and evening. Free for Total Facility Members.

WATER AEROBICS
An instructor will provide a ramped up workout for those looking for high energy aerobics and make appropriate modifications for those who want a more moderate workout. These classes will keep your heart rate pumping while you focus, engage, and tone every muscle in your body through the use of water resistance.
WATER STRETCH
Stretching helps to lengthen and elongate muscles to enhance their flexibility and elasticity. Doing these exercises in the water provides a low impact environment to protect joints and muscles, allowing participants to increase their range of motion and decrease their risk of injury.
ADULT BEGINNER SWIM LESSONS
Adult swimmers who are comfortable in the water, but can only swim short distances independently, will learn to effectively use arm/leg movements, glide, and float to further develop their abilities. Registration required.
MASTERS SWIM
Our Masters Swim Class will strike a healthy balance between training, fitness, improved stroke technique, and fun. We can help improve technique and efficiency for anyone from fitness swimmers to competitive pool and open water swimmers, first-time triathletes to seasoned triathletes.
The role of the staff is to design a program that will allow all members to reach their individual goals. We believe that improving stroke technique and providing purposeful training sets are key elements to a strong program. To join our program, you should be able to swim 100 yards without stopping and should have some basic prior experience and or some knowledge of freestyle, backstroke and breaststroke. We will offer two lanes to our swimmers – one for faster swimmers, and one for swimmers currently working at a slower pace.
Swimmers will typically log between 1500-3500 yards each class depending on level in an interval-style format (not continuous swimming!). Swimmers should have fins, and a swimmer googles that they will use in class.
PRIVATE SWIM LESSONS FOR ADULTS
1/2 hour session for $50. Semi-private lessons also available for $75 per 1/2 hour. Build and improve upon your swimming techniques. If interested in scheduling a private or semi-private swim lesson please email aquatics@theconnectiononline.org
SENIOR SWIM
Pool time reserved for our 'Senior Annual Dues' Members and Senior Total Facility Members to swim laps and exercise.