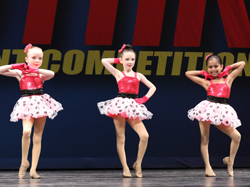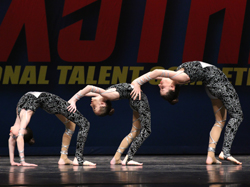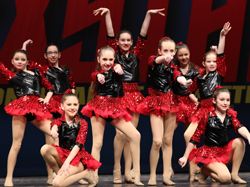 THE CONNECTION DANCE TEAM (grades K – 12)
The Connection Dance Team's (TCDT) mission is to build well-rounded dancers and encourages team building in a safe, fun, and competitive environment. TCDT dancers are selected by audition in mid-June each year. In addition to several team levels, members have the opportunity to compete in solos, duets, and trios, and to be a part of the Elite Team.
Click Here for a list of frequently asked questions.
For more information regarding The Connection Dance Team please contact Jessica.Fascenelli@theconnectiononline.org.
Dance Team Awards
In addition to receiving high honors such as 1st place in category, 1st place overall, and Platinum score awards The Connection Dance Team has received the following special awards:

2021

"To Build A Home" – Ultimate Precision Award (Beyond the Stars Dance Competition)

"To Build A Home" – Golden Ticket to the World Dance Championships (Starpower Dance Competition)
"To Build A Home" – Special Judges Award: Storytelling Performance Award (Nexstar Dance Competition)

"How You Like That" – Highest Scoring Group ages 12 & under (Beyond the Stars Dance Competition)

"How You Like That" – Judges Award: K-Pop All The Way (Beyond the Stars Dance Competition)
"How You Like That" Golden Ticket to the World Dance Championships, Entertainment Award (Starpower Dance Competition)

"This Is The World We Made" – Ultimate Crowd Pleaser Award (Beyond the Stars Dance Competition)

"We Got The Beat" –  Golden Ticket to the World Dance Championship (Starpower Dance Competition)
"We Got The Beat" –  Entertainment Award (Nexstar Dance Competition)
"We Got The Beat" – Golden Ticket to the World Dance Championship (Nexstar Dance Competition)
"When The Party's Over" – Special Judges Award: "Endless Emotion" (Starpower Dance Competition)
"Nobody's Perfect" – Golden Ticket to the World Dance Championship (Nexstar Dance Competition)
"Nobody's Perfect" – Star Dance Alliance Regional Champion (Nexstar Dance Competition)

2019

"Lights" – World Dance Championships Golden Ticket (Nexstar Dance Competition)

"Telephone" – World Dance Championships Golden Ticket (Starpower Dance Competition)

"I Just Wanna Be Happy" – World Dance Championships Golden Ticket (Nexstar Dance Competition)

"I Just Wanna Be Happy" – World Dance Championships Golden Ticket (Starpower Dance Competition)

"I Just Wanna Be Happy" – Ultimate Showmanship Award (Beyond The Stars)

"Becoming Them" – Ultimate Entertainment Award (Beyond The Stars)

"Becoming Them" – Entertainment Award (Starpower Dance Competition)

"Becoming Them" – special judges award: Cool & Clever Concept (Starpower Dance Competition)

"Woman Up" – Entertainment Award (Nexstar Dance Competition)

"Bring Me To Life" – special judges award: Connected & Committed (Beyond The Stars)

"White Flag" – special judges award: Intensity (Nexstar Dance Competition)

"Start The Party" – special judges award: Sparkles and Smiles (Beyond The Stars)

2018
Association of Dance Conventions and Competitions – Studio Of Excellence Award
"Floor Filler" – World Dance Championships Golden Ticket (Starpower Dance Competition)
"Floor Filler" – Regional Champion (Starpower Dance Competition)
"Look Up" – World Dance Championships Golden Ticket (Starpower Dance Competition)
"Look Up" – Ultimate Emotional Execution Award (Starpower Dance Competition)
"Paint It Black" – Performance Award (Nexstar Dance Competition)
"Rise Up" – special judges award: Beautiful Friendship (Starpower Dance Competition)
"Rise Up" – special judges award" Beautiful Partnership (Nexstar Dance Competition)
"Can't Hold Us" – Power Pak Convention invitation
2017
"Night Terrors" – Entertainment Award (Beyond The Stars)
"Skyscraper" – Choreography Award (Starpower)
"Skyscraper" – World Dance Championships Golden Ticket (Starpower)
"Skyscraper" – Captivating Connection (Beyond The Stars)
"Skyscraper" – Pretty Pictures  (Dancers Inc)
"Time Of My Life" – Entertainment Award (Beyond The Stars)
"Time Of My Life" – Terrific Teamwork (Beyond The Stars)
"Unwritten" –  Smiles For Miles (Starpower)
"The Party's Just Begun" – Dazzling Divas (Beyond The Stars)
2016
"Firework" – special judges award : American Beauties (National Dance Showcase)
"1-2-3 Love" – special judges award: Crisp and Clean (Beyond The Stars)
"The Future Sounds Like Us" – special judges award: Future-tastic (Starpower Dance Competition)
2015
"Intergalactic" – World Dance Championships Golden Ticket (Starpower Dance Competition)
"Intergalactic" – Star Dance Alliance Champion (Starpower Dance Competition)
"We Run The World" – special judges award: Girl Power (Starpower Dance Competition)
"We Run The Word" – special judges award: Creative Concept (Starpower Dance Competition)
"We Run The World" – special judges award: Creative Concept (Beyond The Stars)
"Quiet" – World Dance Championships Golden Ticket (Starpower Dance Competition)
"Mad World" – special judges award: Stellar Quality (Starpower Dance Competition)
2014
"9 To Crazy" – Entertainment Award (VIP Dance Competition)
"9 To Crazy" – special judges award: Females On Fire (Starquest Dance Competition)
"Circus" – Costume Award (VIP Dance Competition)
"I've Got That Power" – special judges award: Practically Professional (Beyond The Stars Dance Competition)
"Carry On" – special judges award: Great Connection & Storytelling (Starpower Dance Competition)
"Believe" – special judges award: Fantastic Use Of Space (National Dance Showcase)
"Spice Up Your Life" – special judges award: Adorable (National Dance Showcase)
"Dream" – special judges award: Beautiful Stage Presence (Starpower Dance Competition)
"Dream" – special judges award: Dream (National Dance Showcase)
"Dream" – Star Champion Performer Award for National Finals (National Dance Showcase)
2013
"The Secret" – special judges award: Unique Concept (Starpower Dance Competition)
"The Secret" – Entertainment Award (VIP Dance Competition)
"The Secret" – Costume Award (Beyond The Stars Dance Competition)