WHAT IS PICKLEBALL?
Pickleball is the fastest growing sport in the USA! It is a fun sport that combines many elements of tennis, badminton and ping-pong. It is played both indoors or outdoors on a badminton-sized court and a slightly modified tennis net. It is played with a paddle and a plastic ball with holes.
AVAILABILITY
Open play times are available to Total Facility Members with an advanced registration. Check our current In-Person Adult Fitness Schedule for availability.
PRIVATE INSTRUCTION
The Connection is now offering Total Facility Members private and semi-private pickleball lessons with John Neglia, USA Pickleball Association, Ambassador, Union County. To register for a private or semi-private lesson with our Pro, John Neglia, members can email
sangeeta.benbow@theconnectiononline.org
| EVENT | PRICES |
| --- | --- |
| Clinic | free to TF members |
| Private Session | $45/person/hour |
| Semi-Private Session (2-4 students) | $30/person/hour |
FREE PICKLEBALL CLINICS

Saturday, April 22
Beginners 11am to 12pm | Click here to register.
Advanced Beginners 12:15pm to 1:15pm | Click here to register.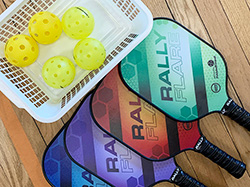 Learn how to play pickleball with Union County Pickleball Ambassador John Neglia. For Connection total facility members only. Maximum of 6 participants per session.Wear sneakers and comfortable clothes. Bring water and towel. All equipment will be provided or bring your own. For questions, email
sangeeta.benbow@theconnectiononline.org
.