May 2021
By: Jessica Fascenelli Weisenbach
Dance & Performing Arts Director
Theater, Dance, & Specialty Camps Director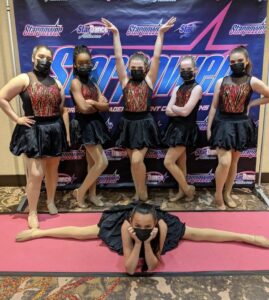 2020 and 2021 brought so many new things – new guidelines, information, concerns, questions, and so much more. One thing that has stayed the same are the characteristics of The Connection Dance Team (TCDC) dancers. Our dancers' ages 5 through teen have had such positive attitudes, letting their passion for dance shine through whether virtually or through their mask. They have been caring toward their teammates, and they have been so very hard working.
Our dancers did not compete in 2020 but attended one virtual and two in-person competitions in 2021. The dancers and teachers alike were excited to take the stage and showcase everything they had been working for since the season began in September 2019. The competitions were so well planned and kept everyone distant and safe. Despite the masks and safety measures something about the competitions created a sense of normal. Our dancers were finally back on stage, doing what they loved, and the (limited) audience was right there cheering them on through it all!
TCDC had a very successful season. Some highlights include:
•Most of our teams placed in their categories or overall
• 5 Golden Tickets to the World Dance Championships
• 4 Entertainment/Ultimate Awards
• 3 Special Judges Awards
• Regional Champions – Sparkle Team and Rhythm Team
Bravo dancers!
TCDC is holding auditions for our 2021-2022 season on Saturday, June 19th. Times will be sent after registration closes so that we can be sure to safely accommodate all interested dancers. At the audition dancers will have a warm-up and learn choreography in different styles of dance which will be performed for the panel as a group.
Dancers ages 5+, please register for auditions on THIS FORM.
For frequently asked questions click HERE.
Questions? Contact Jessica at Jessica.Fascenelli@TheConnectionOnline.Org