May 2020
The Connection
The month of May can be a great time to stargaze with your little ones! This month will see the last Supermoon of 2020. On Thursday, May 6th, the moon will
be supersized and easily viewable (if the weather cooperates) from your back yard or window.
Youth Specialty Director Lucie Kahn is back with another kid theme day your family can enjoy in preparation for viewing the Super moon!
These theme days are a good opportunity to let them lead and practice making their own choices and decisions.
For all activities and inspiration, Pinterest is a big resource for finding ideas to make these adventures more memorable.
Set the Stage
A good outfit is always appreciated on theme days. Help them look the part!
Get your outfits ready! Pull out any space-themed shirts, clothing with stars, moons, or glow-in-the-dark! You can also make your own space or alien costumes from old clothes, fabric, or cardboard.
Choose one space in your home that is "outer space" where you can do your activities. Choose somewhere where you can close shades or curtains to make it dark.
Snacks for Hungry Adventurers
Snack time is always the most important part of any space explorers day!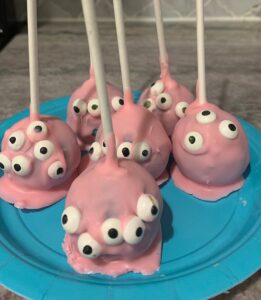 Looking for a fun snack that they can help you make? Try Moon Cake Snacks! Take rice cakes, spread with peanut or sun butter, and decorate with sliced bananas or cheerios to look like the surface of the moon.
Another yummy snack to try is alien cake pops. If you don't have googly eyes around the house, try using chocolate chips, yogurt raisins, whatever you have!
Crafts for Little Hands
Art projects and hands-on activities are always a good way to add enrichment and imaginary play to your child's day.
Make a space ship out of an old cardboard box. Have the kids go to town decorating and painting it. Ready for lift-off!
Time for a science lesson with this water bottle rocket Or try a solo cup rocket blast off.
Break out your air dry clay, playdough, or kinetic sand and make moon rocks or moon footprints in a dish.
You can also make galaxy paintings. Grab dark-colored construction paper and fill a small spray bottle with white or yellow paint.  Then let the kids spray the paper for a starry, galaxy effect.
Get Them Moving – Space Edition
Space is always a fun, popular theme and there are lots of exercise resources to get the kids active and having fun.
Cosmic Kids Yoga is a popular storytime yoga and offers a number of fun space-themed practices specifically tailored towards children.
Try this Astronaut Workout sheet to prep your little space explorers for their first flight!
If you have a trampoline or bounce house, the kids can practice their "moon bouncing".
We hope you have enjoyed our theme day activities and would love to see what creative ideas you and your child come up with! Tag us on Facebook or Instagram at @TheConnectionNJ. If you have any questions about any theme day activities, shoot Lucie an email at Lucie.Kahn@theconnectiononline.org.
As always, stay happy and healthy and The Connection hopes to see you soon!