May 2020
Jeff Porter
Aquatics Director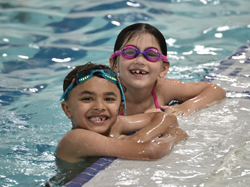 I hope everyone is doing well and staying healthy! I know that in these unprecedented times we are all adjusting to the new normal. I want to remind you that water safety is still a very important skill for people of all ages to know. International Water Safety Day is just around the corner on May 15, so I have found some free resources from the Red Cross regarding water safety that I would like to share with you all. Together, we can reduce the drowning rate. #WaterSafetyAtHome
Resources to Keep You and Your Family Safe in the Water
Things To Know About Water Safety
Ensure every member of your family learns to swim so they at least achieve skills of water competency: able to enter the water, get a breath, stay afloat, change position, swim a distance then get out of the water safely.
Employ layers of protection including barriers to prevent access to water, life jackets, and close supervision of children to prevent drowning.
https://www.redcross.org/get-help/how-to-prepare-for-emergencies/types-of-emergencies/water-safety.html
Talking to Your Children About Water Safety
Talking with your children about water safety doesn't have to be hard or scary. Teaching water safety early and often can be one of the most important things you can do to keep your kids safe in the water. The Red Cross has materials that can help you start the conversation.
Read more here:
https://www.redcross.org/get-help/how-to-prepare-for-emergencies/types-of-emergencies/water-safety/water-safety-for-kids.html
Are You a Strong Swimmer?
The Red Cross recently completed a survey where they found that 80 percent of Americans said that they could swim, whereas only 56 percent could competently complete all five basic water skills recognized as essential to water safety.
This sequence of critical water safety skills, also known as "water competency," are the ability to:
Step or jump into the water over your head.
Return to the surface and float or tread water for one minute.
Turn around in a full circle and find an exit.
Swim 25 yards to the exit.
Exit from the water. If in a pool, be able to exit without using the ladder.
Wondering how you shape up as a safe swimmer? take the Red Cross's Water Safety quiz!
Make sure you are up-to-date on your water safety knowledge and be honest with your own level of comfort and ability in the water! It could save your life or the life of one you love.
We hope that you and your family stay safe this summer and practice water safety no matter where the summer takes you.  If you have any questions or want to learn more, please reach out to Jeff at Jeff.Porter@theconnectiononline.org.
The following link is to a free class offered by the Red Cross (may need to sign up for Red Cross membership which is also free). Description below
https://www.redcross.org/take-a-class/classes/water-safety-for-parents-and-caregivers/a6R3o0000012oT8.html
The Water Safety for Parents and Caregivers Online Course focuses on developing an awareness of the risks of drowning and how to minimize those risks, especially for young children. This online course teaches parents and caregivers about the concepts of the circle of drowning prevention, water competency, and the chain of drowning survival. It also provides guidance for applying water safety to common environments and situations where children are most at risk for drowning.