6/16/2016
By Mark Kalladeen, Fitness Center Trainer
On Saturday June 4th we hosted our very first Fitness Center Run/Walk. There were about 25 people who initially signed up and more than 75% of that group attended. At first the weekly forecast stated that it was going to rain, but to our benefit Saturday morning had clear skies and warm weather; the perfect way to kick off this event. Members were asked to arrive at Briant Park in Summit at 7:15am for the run to start at 7:30am. Within those 15 minutes we stretched and came up with a goal that everyone was comfortable with. Together we agreed on three miles for our first run/walk.
At the start of the run we split up into a walking group and a running group. I paced myself to be in the middle of the running group so I could keep an eye on everyone. Briant Park was the perfect setting for me to do just that because it is a small one mile loop and you can see almost everyone who is walking the trail by just taking a quick glance around the park. The runners finished their first mile after 10 minutes and I could see the other group was still on the move as well. Miles 2 and 3 went with ease for the running group and we all ended at the shed where there were refreshments and snacks for the participants. We waited for the walking group to cross the finish line and then took this group picture to remember our first run/walk.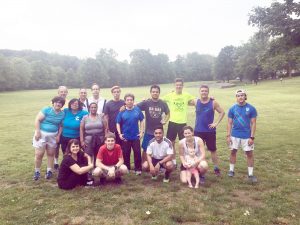 The first run is in the books and I am very excited to see what else we can accomplish in the future. Speaking of the future, if anyone is interested, we will be hosting another run on Saturday June 18th at Briant Park at 8am. Please come see me, Mark Kalladeen, in the Fitness Center or email me at mark.kalladeen@theconnectiononline.org if you are interested. What we ultimately want to accomplish is to be able to keep organizing these runs so that we can do a 5K as a team to represent The Connection later on this year. Who knows, maybe at some point we can become the "Connection Runner's Club" and participate in events all over the place.