We are partnering with the Junior League of Summit to deliver resources and encouragement right to your inbox.
As we continue to see the effects of the pandemic in our community, we are here to help you take care of yourself and your loved ones. We've created a series of emails that are meant to provide you reminders and tips to help us through it all. Some will be for adults, some for children; some for the employed, and some for caregivers. While you may not benefit from each email, we invite you to participate and pass it along to someone it might.
We will continue to get through this together. If there is a topic you'd like highlighted, let us know! And as always, if you or someone you know might need specific help, please reach out and we will do our best to help connect you.
Mental Fitness Framework with Jen Milnes
Gratitude Meditation with Victoria Squazzo
Mental Fitness Framework
with Jen Milnes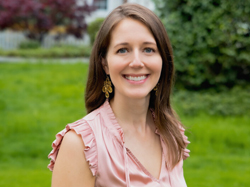 Your brain is being pulled in so many directions lately and it can be overwhelming. So much input coming in, such as emails, texts, questions from colleagues and kids, plus daily changes such as schedules shifting, snow days, and changing world dynamics. Phew. It is exhausting.
Slowing down throughout the day, even for one minute, can help us switch from stress-mode and negative thinking to a positive mindset. Responding to life's challenges with a positive mindset rather than a negative mindset can improve health, performance, productivity, and relationships.
How can you practice mental fitness?
Start by

slowing down to observe

your patterns – when do you get upset? When are you frustrated? When are you stressed? Start to notice what the triggers are to each of these feelings. Observing and creating awareness is the first step.

Then

NAME the feeling

that's happening. For example, if you realize you are being really hard on yourself, NAME those thoughts as "self-criticism". This way when you hear the voice again, you can think, "Oh, that's self-criticism showing up again!"

Take a break

in the morning, one in the afternoon, and one in the evening for 1 minute at a time. Spend that one minute getting out of your brain and into your body by focusing on breathing only or deeply examining something, such as the lines on your handprint.

Connect with your most confident self

when approaching a difficult situation – connect to this version of yourself by imagining a time when you felt all those positive, confident feelings. 
Looking for more support? Reach out at jenmilnes@gmail.com  Jen is a Summit local and Connection volunteer who cares deeply about our greater community. She's also a certified Leadership Coach who supports individuals and groups to find clarity and consciously create more fulfilling careers and lives.
Gratitude Meditation
with Victoria Squazzo
Set aside 8 minutes to join Connection Instructor, Victoria, in a gratitude exercise.
This is a wonderful way to begin or end your day, or to take a break to refresh or re-center.
When you're ready to begin, please click here; you can choose to listen to the audio or read the transcript.
We are continually grateful for you-our members and friends!