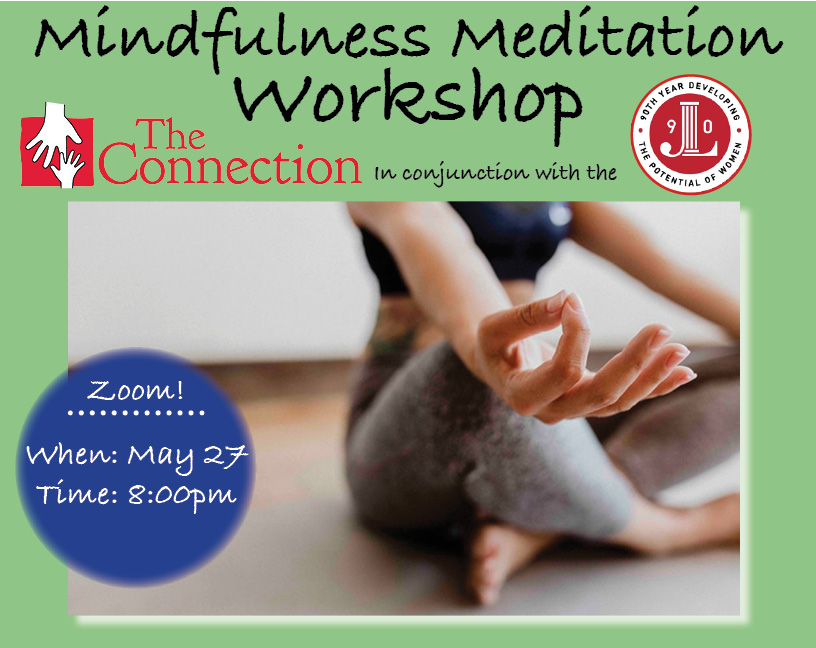 Mindfulness Meditation Workshop
Led by Reiki Master Teacher, Victoria Squazzo
Wednesday, May 27 at 8:00pm
Our lives, schedules, and perspectives continue to shift dramatically during this time in our history.  This can often lead to a feeling that life is living us and not the other way around!  We are susceptible to shifting emotions and the pressure of added stressors that make maintaining a sense of peace and balance challenges.
One of the best ways to reconnect to a source of positive energy is through Mindfulness.
Mindfulness/Meditation is an important tool to have in our self-care tool belt and one that we can access at any moment and for any length of time.  Meditation can provide relaxation and clarity… allowing us to connect to ourselves from the inside-out.
The Connection, in conjunction with The Junior League of Summit, will be presenting two Mindfulness/Meditation workshops, led by Reiki Master/Teacher Victoria Squazzo.  On May 27, adults and teens are invited to an event that will focus on how to develop a consistent and approachable practice that provides limitless benefit.
Victoria Squazzo, RMT, HPA, is a Reiki Master/Teacher (for people and pets) and Holistic Practitioner of Ayurveda who runs a vibrant and joyful wellness practice that encompasses the length and breadth of Natural Health.  Along with Reiki, Meditation, and Ayurveda, Victoria regularly teaches both private and group Yoga, Pilates, Group Fitness and Zumba classes.  She firmly believes in the power of energy work, mindfulness and movement to promote and support emotional, spiritual and physical life balance.  Dimensional health is her passion, and she treasures passing on self-knowledge, healing, and empowerment to those she serves.
When not in session with her private wellness clients, Victoria can be found facilitating self-care workshops, dancing argentine tango and training for her first marathon. To access Victoria's free Connection classes as well as other live and taped classes, please click here.
Join Zoom Meeting: https://us02web.zoom.us/j/6740989190?pwd=Ky9UR3NGS0Q3a1V2aUc2ejNvR1duQT09
Meeting ID: 674 098 9190
Password: 908224
PS:  Save the date! A June 10 workshop will spotlight the role of mindfulness as a family activity that builds a healthy practice that leads to peaceful, connected experiences to share.