Welcome to the Summer Camp Parent Portal! During camp, this page will be your one-stop-shop for all camp news and information!
WEEK 9 CAMPERS! (8/24-8/26) We will have outdoor water play on Wednesday so send your child to camp in their bathing suit and pack a change of clothes and a towel on 8/26. REMINDER: the last day of camp is Wednesday, 8/26!
For returning families, group number assignments may have changed from previous weeks due to age breakdowns. For example, if your child was previously in group 2 it may change to group 1. They'll have the same friends, just a new group number to accommodate a number of new campers joining us.
POOL UPDATE: We are disappointed to share we will not be able to open the pool to campers this summer. We have been in consultation with the Health Department these past two weeks and we cannot have children safely swim in the pool while meeting the COVID-19 regulations.
Wednesdays and Fridays will continue to be water sports days and we are implementing other ways to help campers and their counselors cope with the heat. One of them is that during these excessively hot days we are rotating campers inside the building to cool down.
UPDATE 7/9: MASKS – Governor Murphy specifically excluded summer camps in his Executive Order 163 from the mandate to wear face coverings in "outdoor public spaces."
HELPFUL LINKS:
Parent Packet
Liability Waiver *all families must sign and send to info@theconnectiononline.org before 1st day of camp
Daily Health Screen Questionnaire  *must be answered daily before camp
New Policies and Procedures
Car Signs
Checklist for parents
Camp Newsletter
View the below video for a glimpse into Summer Camp 2020 so your camper knows exactly what to expect!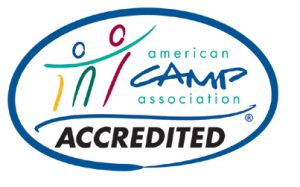 The Connection is accredited by the American Camp Association (ACA). By selecting an ACA Accredited camp for your child, you ensure your camp meets industry-accepted and government-recognized standards for health, safety and camp quality…and of course, fun!