You can achieve your personal fitness goals with a customized program and one-on-one coaching from simply the best instructors! Our knowledgeable and caring staff members provide a relaxed and welcoming atmosphere where you will be challenged but never intimidated.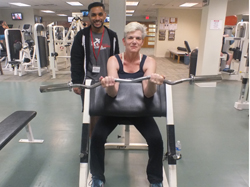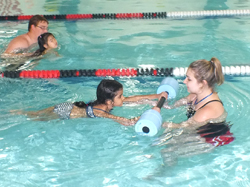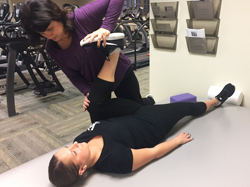 PERSONAL TRAINING: FITNESS CENTER
Fitness Center members work one-on-one with a certified personal trainer. Sessions focus on establishing and reaching realistic goals using cardio-endurance and resistance.
One-on-One Adaptive Fitness participants are supervised by a certified trainer, and training is based upon input and direction from participants' therapists. Evaluation and medical clearance necessary.
For more information about personal training, contact Fitness Center Director Russell Graham at 908-273-4242, x134.
NUTRITIONAL SERVICES
Karen Von Zelowitz, Licensed Dietitian and owner of Nordic Health & Wellness LLC, is offering 1-hour nutrition services available to members for $60.
Jump Start Nutrition Package:
1 nutritional assessment + 2 personal training sessions + 2 nutritional follow-ups = $350 (Intro price. All sessions must be used within an 8 week period.)
For more information contact Sangeeta Benbow at 908-273-4242, x 133.
ASSISTED STRETCH: FITNESS CENTER
Mary D'Amato, Personal Trainer and Group Fitness Instructor, is trained as an Assisted Stretch Provider. Target your muscles and joints for greater flexibility, increased circulation, and stress relief. This fully clothed session will complement your fitness routine and healthy lifestyle habits. It can be done in 30 or 60-minute blocks. Vouchers are purchased at Front Desk just like, and at same rates, as Personal Training.
Call or visit Mary at the Fitness Center to arrange appointments 908-273-4242 x. 113.
PRIVATE INSTRUCTION: YOGA AND PILATES
Specialty Personal Training
Our instructors work one-on-one with members. Contact Adult Fitness & Wellness Director Sangeeta Benbow at 908-273-4242 ext. 133 for more information.
| Personal Training | Prices |
| --- | --- |
|  One Half Hour Session | $50 |
| 5 Half Hour Sessions | $225 |
| One Hour Session | $60 |
| Five One Hour Sessions | $275 |
| One Hour Semi-Private Session | $95 |
| Five One Hour Semi-Private Sessions | $450 |
|  One Hour Small Group Class (minimum 3 members) | $140/member (4 classes) |
PRIVATE INSTRUCTION: SWIMMING
One-on-one Learn to Swim for Children and Adults
Trained swim instructors work with participants to help them reach their individual goals. Goals can range from giving beginners confidence in the water to improving on an advanced swimmer's competitive techniques. Semi-private lessons are also offered.
Private Lesson Availability
Private lessons are fully booked at this time. If you would like to be added to the waiting list, please contact Jeff Porter at jeff.porter@theconnectiononline.org.
Aquatics Personal Training for Adults
Designed for anyone who wants to stay in shape, is training for a triathlon or interested in low-impact fitness training. Email Jeff Porter at jeff.porter@theconnectiononline.org for more information.
| Private swim lessons | prices |
| --- | --- |
| One Half Hour Swim Lesson | $50 |
| Eight Half Hour Swim Lessons | $360 |
| One Half Hour Semi-Private Swim Lessons | $75 |
| Eight Half-Hour Semi-Private Swim Lessons | $550 |