TEMPORARY FITNESS CENTER HOURS
Monday – Friday 6:00am – 7:00pm
Saturday: 7:15am – 1pm
Click here for the latest update on our Fitness Center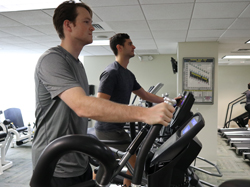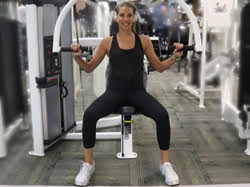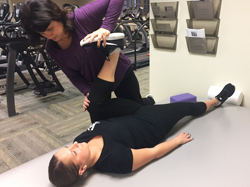 Our knowledgeable and professional staff will help you achieve the level of fitness you've always wanted by establishing, focusing on, and reaching realistic fitness goals. Our spacious facility provides members with the latest cardio machines including treadmills, ellipticals, bikes, and cross-training equipment in a relaxed and welcoming environment. The Fitness Center also includes a full line of circuit strength training equipment as well as a free weight area. Personal training sessions are also available.
PERSONAL TRAINING
Fitness Center members work one-on-one with a certified personal trainer. Sessions focus on establishing and reaching realistic goals using cardio-endurance and resistance. 1/2 hour $50, 1 hour $60 or five 1/2 hour sessions for $225, five 1 hour sessions for $275 (a $25 savings). Prices not included in Total Facility package. Contact Russell Graham, 908-273-4242 ext. 134 for information.
CARDIAC AND PULMONARY REHAB PROGRAMS
Prevention and rehabilitation of coronary artery and pulmonary diseases through an individualized exercise program and lifestyle modification.
A multidisciplinary rehabilitation program where individuals continue their exercise regimen and lifestyle modifications under the supervision of registered nurses. Participants who are ready for a non-monitored program are welcome. The program follows the physician's exercise prescription. Prospective members must be medically stable and have signed medical clearance.
As a Cardiac and Pulmonary Rehab member, you are entitled to use of the Fitness Center during Rehab hours, adult swim lessons and lap swim, and all fitness/wellness and dance classes. Membership is required to participate in all Connection classes and use of the facility.
SPECIAL NEEDS FITNESS/ADAPTIVE FITNESS
One-on-one exercise and fitness training for teens and adults with special needs. Evaluation and medical clearance are necessary. Contact Russell Graham, 908-273-4242 ext. 134