The Connection's Therapeutic Fitness programs help recovering cardio and pulmonary patients, individuals with Parkinson's and osteoporosis, and women recovering from cancer improve their quality of life with fitness programs specialized to their needs.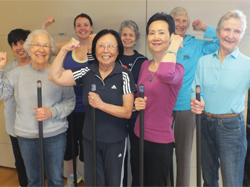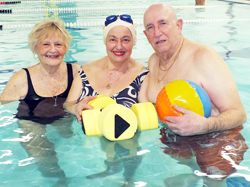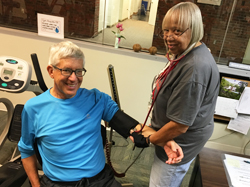 HEART-TO-HEART
The Connection's Cardiac and Pulmonary Rehabilitation Program, Heart-To-Heart, is dedicated to the prevention and rehabilitation of coronary artery and pulmonary diseases through an individualized exercise program and lifestyle modification.
Participants benefit from a multidisciplinary rehabilitation program where they continue their exercise regimen and lifestyle modifications under the supervision of registered nurses. Participants who are ready for a non-monitored program are welcome. The program follows the physician's exercise prescription. Prospective members must be medically stable and have signed medical clearance.
As a Cardiac and Pulmonary Rehab member, you are entitled to use of the Fitness Center during Rehab hours, adult swim lessons and lap swim, and all fitness/wellness and dance classes. * Membership is required to participate in all classes at The Connection and for use of the facility.
THERAPEUTIC FITNESS
Strength Training for Osteoporosis
Exercise safely in order to strengthen muscles and maintain bone health, improve posture, and enhance balance. Work with chairs, free weights and bands. Written MD clearance and registration required.
Pathways Sister Strong Fitness Program
Women undergoing or recovering from cancer treatment receive a total of 16 hours of free one-on-one fitness training by qualified Cancer Exercise Specialists at The Connection's Fitness Center. Medical clearance letters and other documentation are required.  For further information, please contact Lesley Andrews.