Students at The Connection learn skills often not emphasized elsewhere including visual-spatial abilities, reflection, self-criticism, and the willingness to experiment and learn from mistakes. Specialty classes at The Connection teach your child fundamental skills in a warm and welcoming environment which fosters creativity and self-expression.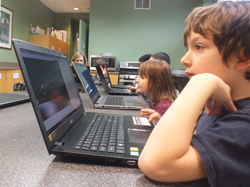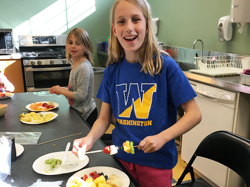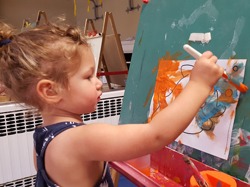 CURRENT CLASSES:
Messy Mornings | ages 1-4 + parent
An extended morning of mess-making with your child! Enjoy your snack when you two need to refuel for more fun with the water table, arts & crafts, rice pool, and more!
Science Explorers | ages 6-10
Young scientists will delve into a variety of science topics with hands-on and interactive activities!  Have some (sometimes messy!) fun while learning about space, earth science, biology, and more!
SPECIAL NEEDS
Adapted Youth Yoga | ages 5-14
Enjoy different poses and fun stretches designed to engage the body, mind, and spirit. Individualized modifications to activities will be made as needed.
Jr. Warrior Challenge | ages 3-12 
An energetic class utilizing specially designed ninja challenge course equipment (rockwall, cargo net, mini trampoline, and more) to improve strength, agility, and speed.
Art Collective | ages 5+
The Art Collective class will explore various avenues of artistic expression for our participants. The class will consist of drawing, painting, sculpting, arts and crafts, and much more. The class will encourage our students to expand their creativity while allowing them to express themselves artistically.
Dance Foundations | ages 5-14
Youth are introduced to basic dance techniques through innovative and creative body movement. Individualized modifications to activities will be made as needed.
Music Foundation | ages 8-14
The Music Foundation Class takes an informal adapted approach in introducing various instruments to each of our students. Students will have the opportunity to play percussion instruments involved in our drum circle as well as experiment with computer music software used in collaboration with other instruments, such as keyboards, guitars, and other adapted instruments. Music education will help our students establish a greater sense of logic and organization, as music relies on the implementation of sound and rhythmic patterns.
Sports Foundations | ages 2-7
A class allowing children to develop gross and fine motor skills while learning the basics of popular sports including baseball, basketball, soccer, and tennis.
Teen/Young Adult Social | ages 15+
Teens and young adults meet twice a month for an evening of entertainment and camaraderie. Held on: 9/3,9/17,10/1, and 10/15.