Students at The Connection learn skills often not emphasized elsewhere including visual-spatial abilities, reflection, self-criticism, and the willingness to experiment and learn from mistakes. Specialty classes at The Connection teach your child fundamental skills in a warm and welcoming environment which fosters creativity and self-expression.
Click here to learn about our Specialty Program Instructors!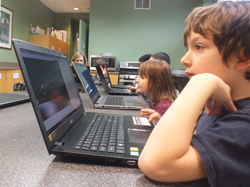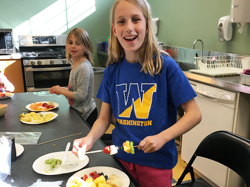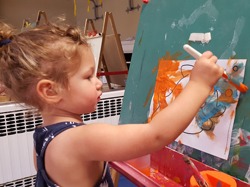 ART CLASSES
NEW!

Art Adventures | ages 2-5 & parent
Explore different avenues of art with a real artist. Touch and engage with different elements as you create something great!
NEW!

Cartoon Art | ages 5-7, 8-12, and 7-12
A professional cartoonist will lead weekly lessons to help you learn skills in cartoon and comic art. You will create and take home art you can be proud of.
MUSIC CLASSES
NEW!

Baby Beats | ages 0-1 & parent
It's never too early to learn and develop musically. In this class, babies will experience beats, song, and instruments while bonding with their caregiver in a safe social environment.
Little Musicians | ages 1-3 & parent
Each class weaves a story through song, dance, drama, rhythm and rhyme.  Live guitar and violin, and many instruments to play!
STEAM CLASSES
SENSE Science | ages 5-7 & 8-12
Explore the science of our five senses! With hands-on activities appealing to sight, sound, touch, taste and smell, kids will experience and learn about their senses in a whole new way!
Savvy Scientists | ages 5-7 & 8-12
Delve deeper into the "why" and "how" of the world around us with unique and hands-on experiments. Explore with a real scientist as you learn about electricity, nature, animals, and more.
NEW!

Storytime Science | ages 2-4 & parent
It's never too early to have fun with science! Our experienced science instructor leads an interactive story followed by hands-on STEAM ( Science, Technology, Engineering, Art, & Math) projects that will help them learn through play.
SPECIALTY CLASSES
Drop-In & Play | Infants-5 years
Playtime in our big gym. Children must be accompanied by an adult. Space is limited. Passes available at the Front Desk. Mon., Wed., Fri. 12 – 1pm & Sunday 11 – 12pm and 12 – 1pm. You do not need to be a Connection member.
NEW!

Infant Massage & Sign | ages 0-6 mos. & parent
Babies need massage too! There are numerous benefits to infant massage including decreased colic, development improvement, and caregiver bonding. A good massage class usually ends with an even better nap! Additionally, this class will teach useful baby signs to increase early communication.
NEW!

Zumba with Baby | ages 0-1 & parent
Shake it off with your baby! Carriers suggested as you dance and play to Zumba music in this lively exercise class.
NEW!

Sensory Playgroup | ages 6-18 mos. & parent
Watch your little one explore new visual and tactile items each week while you enjoy some coffee and conversation.
Little Movers | ages 1-3 & parent
Join your child in exploring the "big gym", developing balance and coordination, while having fun with new friends!
Jump & Climb | ages 1½-3 & parent
An exciting class for you and your child to experience the fun obstacle course, as well as activities and games in our "big gym"!
NEW!

You & Me Exploratory | ages 1-4
Get to know a classroom environment while having relaxed fun. Centered on a weekly theme the classes will include messy activity stations and circle time, as well as arts and crafts projects throughout the ten weeks.
Kids In Action| ages 2-3 & parent
Fun-filled activities, games, songs and more for you and your toddler to enjoy in the big gym.
NEW!

Little Athletes | ages 3-5
Run, jump, play, and learn new sports skills! Introduce your toddler to the fun and enjoyment of movement and exploration
NEW!

Super Hero | ages 3-5
Prepare for Action! Each week learn the values of being a hero. At the end of the term you will have a super identity and the gear needed to come to the rescue!
Kids Yoga | ages 4-12
Develop flexibility, coordination, strength, and balance.
Kicks for Kids | ages 4-6
Pre-Karate class focusing on flexibility, agility, balance & fun.
Karate/Self-Defense | ages 7-15
Health, movement and self-defense. Time and skill requirements are outlined for each belt advancement.
SPECIAL NEEDS
Young Athlete Special Olympics Program | ages 2-7
Co-sponsored with the NJ Special Olympics, this program emphasizes sports skill development in physical activity and play. Programs develop fundamental prerequisite skills to prepare students to be future athletes.
Adapted Aquatics | age 3 – Adult
A one-hour swim program providing individuals who are physically or intellectually challenged the opportunity to use the pool for exercise, learn basic swimming skills, be part of a social group, and play games while having fun in a safe aquatic environment.
S.N.S.L. | ages 3-6, 7-11 and 12+
Our special needs swim lesson (SNSL) is designed to teach and improve each student's swimming skills while working in a group environment to improve their focus, comfort, and overall understanding of safety in the pool.
Jr. Warrior Gym Challenge | ages 3-12 
An energetic class that utilizes the gymnasium equipment and specially designed ninja challenge course equipment (rock wall, cargo net, mini trampoline, and more) to focus on improving strength, agility, and speed. Dates: Sept. 15 / Oct. 6 / Nov. 3 / Dec. 8 / Jan. 5 / Feb. 2 / March 1 / April 5 / May 3 / June 7
Adapted Youth Yoga | ages 5-14
Enjoy different poses and fun stretches designed to engage the body, mind, and spirit. Individualized modifications to activities will be made as needed.
Dance Foundations | ages 5-14
Children are introduced to basic dance techniques through innovative and creative body movement. Individualized modifications to activities will be made as needed.
NEW!

Art Collective | ages 5+ Art Collective will explore various avenues of artistic expression. The class will consist of drawing, painting, sculpting, art and crafts, and much more. Students are encouraged to expand their creativity and express themselves artistically.
Warrior Foundations | ages 8+
This coed class will focus on the foundations of Warrior Challenge activities and use a variety of specially designed warrior equipment including: obstacle courses, rock wall, ropes, warped wall, and cargo net. Students will develop strength, agility, and confidence in a fun, challenging atmosphere. The class will have a lead instructor and volunteers to ensure safety and appropriate participation.
NEW!

Music Foundation | ages 8-14
This class is an informal, adapted approach to introducing various instruments. Students will experiment with rhythm as they play percussion instruments in a drum circle. They will also use computer software, in collaboration with keyboards, guitars, and other adapted instruments. Music education will help students establish a greater sense of logic and organization, as music relies on the implementation of sound and rhythmic patterns.
Teen & Young Adult Socials | ages 15-30
Teens and young adults meet twice a month for an evening of entertainment and camaraderie on the following dates: September 13 (1x only), October 4 & 18, November 1 & 15, December 6 & 20, January 3 & 17, February 7 & 21, March 6 & 20, April 3 & 17, May 1 & 15, and June 5 & 19.
NEW!

Cooking at The Connection | ages 18+
Learn basic kitchen skills to prepare, cook, and clean-up after making a nutritious recipe each week. Students will gain confidence in the kitchen, enabling them to use these skills independently in their everyday home environment.
NEW!

Anti-Anxiety | ages 18+
An emotional wellness class that will explore the various ways to control and cope with daily anxiety. This class will explore techniques including meditation, diet, journaling, aromatherapy, and other coping skills.