The Connection is pleased to have attained approval to reopen the pool in a limited capacity.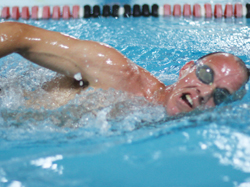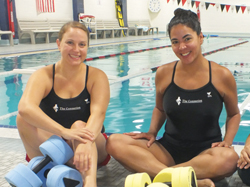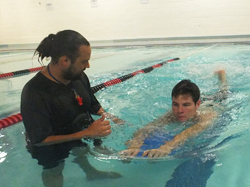 LAP SWIM
Enjoy time in our beautiful 5 lane, 25 yard pool! We offer many hours of lap swim throughout the day and evening. Free for Total Facility Members.

WATER EXERCISE
An instructor will provide a ramped up workout for those looking for high energy aerobics and make appropriate modifications for those who want a more moderate workout. These classes will keep your heart rate pumping while you focus, engage, and tone every muscle in your body through the use of water resistance. Due to capacity restrictions, reservations are required for in-person classes.
AQUATICS PERSONAL TRAINING
1/2 hour $50 or eight 1/2 hour sessions for $360.
Do you suffer from arthritis?
Have you ever had knee or hip surgery?
Are you interested in trying something new and effective?
If you answered YES to any of these questions then The Connection's Aquatics Personal Training is right for YOU!
PRIVATE SWIM LESSONS FOR ADULTS
1/2 hour $50 or eight 1/2 hour sessions for $360. Semi-private lessons also available for $75 per 1/2 hour.
Certified staff members help you build and improve upon your swimming techniques.
If interested in scheduling a private or semi-private swim lesson please email Jeff Porter, Aquatics Director, to receive a private request form: jeff.porter@theconnectiononline.org
SENIOR SWIM
Free to our senior members, five afternoons per week.
RESTRICTED USE OF LOCKER ROOMS NOW PERMITTED AFTER SWIMMING
Members must still come to The Connection wearing their swimsuit and they will continue to be provided a sanitized bucket for their belongings.
Locker room stall showers may be used after being in the pool. Lockers will not be available. Members using the locker rooms will exit out the locker room door, turn to the right and leave the building through the Maple Street doors (exit through the main doors will not be permitted).
Deck showers will continue to be available and may be used after swimming to then depart out the pool exit into the parking lot.
Locker room use is permitted only for members participating in an aquatics program