Explore your creative side at The Connection! Our renowned dance & performing arts program features instructional classes for all ages, abilities, and styles. Adult Dance classes are FREE to Total Facility Members, but require registration.  Email Jessica Fascenelli Weisenbach, Dance and Performing Arts Director, for more information.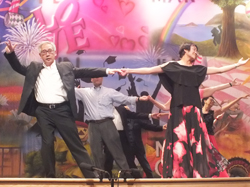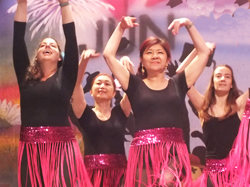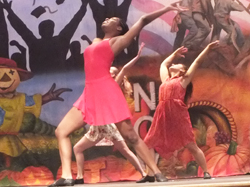 These feature a variety of styles and levels from beginner to advanced and include:
Ballet
Fundamental ballet technique is taught through the use of barre work, center, across the floor, and choreography. This class uses ballet technique to improve strength, tone, and flexibility.
Ballet Body Sculpt
A fusion of sculpting exercises with traditional ballet. This class will begin with a half hour of ballet barre for beginners followed by exercises for the upper body, abdominals, and flexibility. No experience necessary.
Ballroom Dance
Have fun learning the Tango, Jitterbug, Fox Trot, and other steps. Learn to lead and follow. A partner is not necessary.
Barre Sculpt
Integrates the fat burning format of interval training, the muscle shaping technique of isometrics, and the elongation principles of dance conditioning in one class.
Belly Dancing
Belly up to the barre! Blending many cultural styles, this dance of female expression is based on the ways a woman moves.
Cardio Dance Fusion
Get fit with this upbeat class through cardio and basic dance moves. This class begins with a standing stretch, warm up, and arm sculpting followed by approximately 40 minutes of cardio dance. No prior dance experience necessary. Sneakers recommended.
Jazz – Back to Basics
This class is for beginners or for dancers who desire a review – to go back to the basics! This class will begin with a full warm up and carry in to a stretch and across the floor. We will focus on basic body movements and choreography using various styles of jazz.
Jazz- Intermediate
This class is for students with a fundamental knowledge of basic dance steps. The class will consist of a warm-up, center stretch, jazz across the floor and choreography. We will focus on body alignment, placement and strength training all while having fun. This class will incorporate all styles of jazz from classic to Broadway to funk!
Lyrical/Jazz
This class will focus on both the technical and expressive movements of lyrical, and the isolated and sharp movements of jazz. This class will consist of a full stretch and warm-up, across the floor, and choreography.
Tap
This tap class will focus on the fundamentals of tap through the use of specific rhythms and movements. Traditional steps will be coupled with choreography, all while getting a great work out!
Zumba
A Latin-inspired, dance fitness class incorporating Latin and International music and dance movements, which create a dynamic, exciting, and effective fitness system! Sneakers reccomended.
Zumba Gold
Latin and International music inspired dance fitness adapted for the active older adult or for those new to Zumba. All the energy and all the fun. Sneakers recommended.
DANCE WORKSHOPS
The Connection offers a series of dance workshops throughout the year featuring professional artists who teach a master class highlighting a particular dance style. The workshops are free and open to the public and are made possible in part by the New Jersey State Council of the Arts, a partner agency of the National Endowment of the Arts, through a grant administered by the Union County Division of Cultural and Heritage Affairs.