Fall Hours:
Monday – Friday:
8:30am – 1:30pm & 3:30pm – 7:30pm
Saturday: 8:00am – 12:00pm
Sunday: 8:30am – 11:30am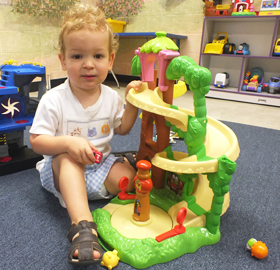 Children discover the world through play. 
Come discover our Nursery where your child(ren) can discover the world..
Children ages 6 months and older can enjoy our nursery while parents and caregivers use The Connection facilities for up to two hours daily-a complimentary resource for Total Facility members.
Our caring and qualified staff create a fun, stimulating and safe environment with supervised activities such as arts and crafts, reading, and playing various games. We have a dedicated playground outside the nursery with equipment that provides lots of opportunity for fresh air and running around. Our babysitting room is also a wonderful opportunity for your child(ren) to make friends and develop social skills.
There is no charge for Total Facility members. The fee for non-Total Facility members is $4.00/hour for the first child and $3.00/hour for additional children. Parents and caregivers must remain on site at The Connection while children are in the nursery.
Please CLICK HERE for more information!