Monday through Friday
8:45am – 12:30pm or 2:30pm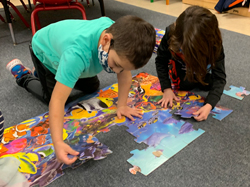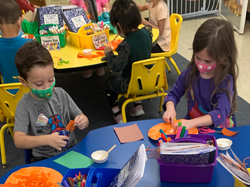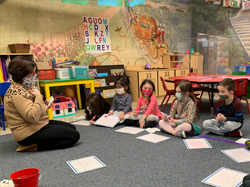 Our enthusiastic and committed staff, led by a certified teacher, will help your child develop the habits, attitudes, and skills necessary to become an active learner and successful student. Click here for frequently asked questions about The Connection Preschool.
Virtually Tour The Connection Preschool with Ms. Christina!
Our weekly learning themes encourage preschoolers to be creative by imagining, designing, implementing, and improving on their own ideas while also collaborating with preschool friends.
Learning Centers
Daily opportunities to participate in developmentally-appropriate activities that help children learn new skills or practice existing skills in a fun, engaging, and supportive learning environment.
Creative Arts
Preschoolers explore their environment by moving, touching, and experimenting with different types of materials to express ideas.
Imaginative Play
Preschoolers role-play and engage with one another learning social skills and cultural awareness. They develop cooperation and negotiation skills while sharing their ideas and experiences within their play.
Interactive Read Aloud
Purposeful and planned story time encourages preschoolers to actively take part by asking and answering questions and making predictions.
STEAM Activities
Preschoolers are inspired to become problem solvers as they explore, investigate, make observations, and join in open-ended creative experiences in science, technology, engineering, art, and math.
ENRICHMENT ACTIVITIES
Led by The Connection's specialty program instructors (all are included in fees).
Monday – Dance/Yoga 
Creative exploration and expression through movement and music.
Tuesday – Swimming
Children learn basic swim and water adjustment skills from trained instructors in small, level-appropriate classes. First Aid and CPR/AED Certified Lifeguards oversee swimmers to ensure the safety of all participants.
Wednesday – Gym
Fun-filled tumbling activities that develop motor and coordination skills. Our staff members are USGA Safety Certified Gym Instructors.
Thursday – Theater
Children enjoy exploring the theater arts through games, stories, and improvisation.
Friday – Fitness & Games
Encourage healthy habits and a positive attitude toward physical exercise through fun and physical play.
Financial assistance is available for The Connection Preschool. Click here for the complete application packet.