The Connection is committed to providing opportunities for everyone. In addition to our own programs,  we work in partnership with Our House, Inc to provide a variety of programs for adults with special needs.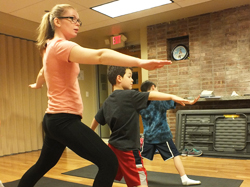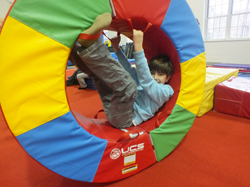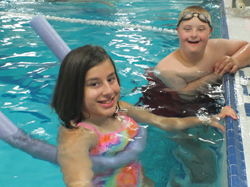 CLASSES AND PROGRAMS
Jr. Warrior Gym Challenge | ages 3-12
An energetic class that utilizes the gymnasium equipment and specially designed ninja challenge course equipment (rock wall, cargo net, mini trampoline, and more) to focus on improving strength, agility, and speed. Dates: Sept. 15 / Oct. 6 / Nov. 3 / Dec. 8 / Jan. 5 / Feb. 2 / March 1 / April 5 / May 3 / June 7
Young Athletes Special Olympics Program | ages 2-7
Co-sponsored with Special Olympics New Jersey, this program emphasizes sports skill development in physical activity and play. Programs develop fundamental prerequisite skills to prepare students to be future athletes. Click here for the Special Olympics Registration Form.
S.N.S.L. | ages 3-6, ages 7-11, and ages 12+
Our special needs swim lesson (S.N.S.L.) is designed to teach and improve each student's swimming skills while working in a group environment to improve their focus, comfort, and overall understanding of safety in the pool.
Adapted Aquatics | ages 3 – Adult
A one hour swim program providing individuals who are physically or intellectually challenged the opportunity to use the pool for exercise, learn basic swimming skills, be a part of a social group, and play games while having fun in a safe aquatic environment. *Medical form must be completed and returned to The Connection one week prior to participation in program.  Click Here for Medical Form.
Adapted Youth Yoga | ages 5-14
Enjoy different poses and fun stretches designed to engage the body, mind and spirit. Individualized modifications to activities will be made as needed.
Dance Foundations | ages 5-14
Children are introduced to basic dance techniques through innovative and creative body movement. Individualized modifications to activities will be made as needed.
Adapted Teen/Adult Yoga |ages 15+
A yoga class modified for teens and adults with physical and intellectual challenges who are able to participate in a group setting. Each month students will experience a variety of calming music, breathing exercises, and gentle yoga sequences & stretches. Dates: Sept. 29 / Oct. 27 / Nov. 24 / Dec. 15 / Jan. 12 / Feb. 16 / March 15 / April 26 / May 24 / June 14
Warrior Foundations – Inclusion | ages 8+
This coed class will focus on the foundations of Warrior challenge activities and will use a variety of specially designed Warrior equipment to include obstacle courses, rock wall, ropes, warped wall, cargo net and more to provide an opportunity to develop strength, agility, and confidence in an atmosphere of challenge and fun. This class will have a lead instructor as well as volunteers to work with students ensuring safety and appropriate participation throughout the duration of the class.
Teen and Young Adult Socials | ages 15-30
Teens and young adults meet twice a month for an evening of entertainment and camaraderie on the following dates: September 13 (1x only), October 4 & 18, November 1 & 22, December 6 & 20, January 3 & 17, February 7 & 21, March 6 & 20, April 3 & 17, May 1 & 15, and June 5 & 19.
Download our Special Needs Brochure
A special THANK YOU to the Summit Area Public Foundation for their support of our Special Needs Programs.
OUR PARTNERSHIPS
Club Oh!
Sponsored by Our House, these monthly Friday night dances for adults with special needs are held at The Connection throughout the year. For dates and info please contact Tory Kania at tkania@ourhousenj.com or 908-464-8008 x138
Connection instructors lead private fitness classes and aquatic experiences for Our House participants; if you are interested in establishing similar opportunities for your organization, please contact Lauren Nisenson, lauren.nisenson@theconnectionline.org or 908.273.4242 x119
VOLUNTEERS
Make a difference! Become a volunteer for our special needs classes. No experience required! Contact Michael Preston at Michael.Preston@theconnectiononline.org or phone: 908-273-4242 ext 131.