The Connection is committed to providing opportunities for everyone. In addition to our own programs,  we work in partnership with Our House, Inc to provide programs for adults with special needs.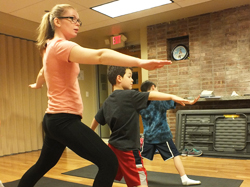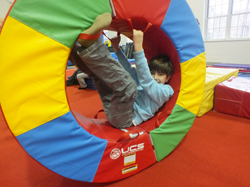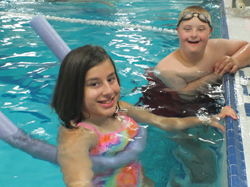 CLASSES AND PROGRAMS
Young Athlete Special Olympics Program | ages 2-7
Co-sponsored with the NJ Special Olympics, this program emphasizes sports skill development in physical activity and play. Programs develop fundamental prerequisite skills to prepare students to be future athletes.
Adapted Aquatics | age 3 – Adult
A one-hour swim program providing individuals who are physically or intellectually challenged the opportunity to use the pool for exercise, learn basic swimming skills, be part of a social group, and play games while having fun in a safe aquatic environment.
S.N.S.L. | ages 3-6, 7-11 and 12+
Our special needs swim lesson (SNSL) is designed to teach and improve each student's swimming skills while working in a group environment to improve their focus, comfort, and overall understanding of safety in the pool.
Jr. Warrior Gym Challenge | ages 3-12 
An energetic class that utilizes the gymnasium equipment and specially designed ninja challenge course equipment (rock wall, cargo net, mini trampoline, and more) to focus on improving strength, agility, and speed. Dates: Sept. 15 / Oct. 6 / Nov. 3 / Dec. 8 / Jan. 5 / Feb. 2 / March 8 & 22 / April 5 & 19 / May 3 & 17 / June 7 & 21
Adapted Youth Yoga | ages 5-14
Enjoy different poses and fun stretches designed to engage the body, mind, and spirit. Individualized modifications to activities will be made as needed.
Dance Foundations | ages 5-14
Children are introduced to basic dance techniques through innovative and creative body movement. Individualized modifications to activities will be made as needed.
NEW!

Art Collective | ages 5+ Art Collective will explore various avenues of artistic expression. The class will consist of drawing, painting, sculpting, art and crafts, and much more. Students are encouraged to expand their creativity and express themselves artistically.
Warrior Foundations | ages 8+
This coed class will focus on the foundations of Warrior Challenge activities and use a variety of specially designed warrior equipment including obstacle courses, rock wall, ropes, warped wall, and cargo net. Students will develop strength, agility, and confidence in a fun, challenging atmosphere. The class will have a lead instructor and volunteers to ensure safety and appropriate participation.
NEW!

Music Foundation | ages 8-14
This class is an informal, adapted approach to introducing various instruments. Students will experiment with rhythm as they play percussion instruments in a drum circle. They will also use computer software, in collaboration with keyboards, guitars, and other adapted instruments. Music education will help students establish a greater sense of logic and organization, as music relies on the implementation of sound and rhythmic patterns.
Teen & Young Adult Socials | ages 15-30
Teens and young adults meet twice a month for an evening of entertainment and camaraderie on the following dates: September 13 (1x only), October 4 & 18, November 1 & 15, December 6 & 20, January 3 & 17, February 7 & 21, March 6 & 20, April 3 & 17, May 1 & 15, and June 5 & 19.
NEW!

Cooking at The Connection | ages 18+
Learn basic kitchen skills to prepare, cook, and clean-up after making a nutritious recipe each week. Students will gain confidence in the kitchen, enabling them to use these skills independently in their everyday home environment.
NEW!

Anti-Anxiety | ages 18+
An emotional wellness class that will explore the various ways to control and cope with daily anxiety. This class will explore techniques including meditation, diet, journaling, aromatherapy, and other coping skills.
A special THANK YOU to The Summit Foundation for their support of our Special Needs Programs.
OUR PARTNERSHIPS
Club Oh!
Sponsored by Our House, these monthly Friday night dances for adults with special needs are held at The Connection throughout the year. For dates and info please contact Tory Kania at tkania@ourhousenj.com or 908-464-8008 x138
If you are interested in establishing specialized opportunities for your organization, please contact Lauren Nisenson, lauren.nisenson@theconnectionline.org or 908.273.4242 x119
VOLUNTEERS
Make a difference! Become a volunteer for our special needs classes. No experience required! Contact Michael Preston at Michael.Preston@theconnectiononline.org or phone: 908-273-4242 ext 131.