SAVE THE DATE!
Saturday, February 7th, 2015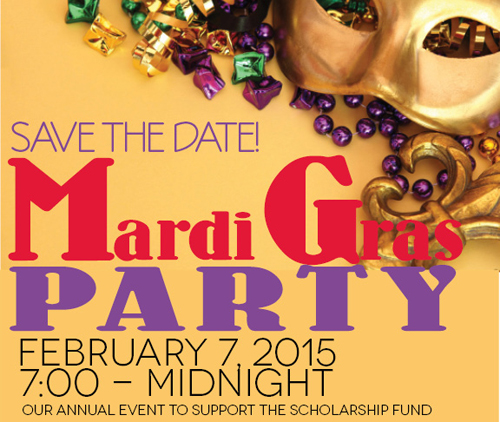 Thank you to all those who attended and contributed to our 2014 Mardi Gras Party, which supported a great cause- The Connection Scholarship Fund! This fund insures that everyone can participate in our programs, regardless of their economic circumstance.
Over the past year, we distributed $270,000 in scholarship assistance to 500 individuals in our programs.

Interested in volunteering for our 2015 Mardi Gras Party?
Email Jayne Graepel or call 908-273-4242 ext. 119 for details.
The Connection Thanks our Mardi Gras Corporate Sponsor

s
:

Mardi Gras 2015 Committee:
Virginia Cepeda - Chairwoman | Marilou Beard | Ann Berkery | Winnie Cavazini
Mary Coughlin | Jodelle Devaney | Lori Donohue | Elizabeth Fagan | Betsy Flaim | Vickie Freeman
Christina Goulding | Jayne Graepel | Betse Gump | Peggy McHugh Hagen | Lesley Harris | Jessica Jett | Jill Johnson
Julie Lanzone | Josette Luciano | Franny McBride | Diana Moran | Irene Murdock | Stacy O'Connor
Lisa Parkes | Nora Radest | Marite Robinson | Marianne Suffern | Susan Watts
| | |
| --- | --- |
| 2014 Corporate Friends | Special Thanks to... |
| Allstate Insurance, Jim Fitzsimmons | Lisa Berkery |
| A.J. Oldroyd Plumbing & Heating | Bollinger Insurance, Greg Moore |
| The Bar Method | Michael Gleason, Ian Ferguson, |
| Mitchell J. Bayroff, DDS, PA | Alex Moore, & Jack Wagner of |
| B&H Securities | The Summit HS Jazz Band |
| Chatham Asset Management, LLC | Emma Greengrass, Stella and Dot Stylist |
| Evermore Global Advisors, LLC | Scott Hale, STH Printing, LLC |
| Faux Paws | Marigolds |
| JMP Maintenance, LLC | To The Max 8 piece band |
| Joe's Pizzeria & Vittoria's Ristorante | Twist With Me Balloons |
| The Ko Firm, LLP | What a Dish Catering |
| ML Interior Designs | The Wine List |
| Noke and Heard, LLP | |
| Point View Wealth Management, Inc. | |
| Preferred Electrical Service | |
| Smythe Volvo | |
| STH Printing,LLC | |