From toddlers through teens, your child can find a place in our comprehensive gymnastics program. Our classes provide a strong foundation for competitive gymnastics, as well as, other sports. In addition to being fun, gymnastics increases both agility and coordination. The Connection offers classes for all ages including parent/child, preschool and school age for children in our state-of-the-art gymnastics facility. Our gym is also home to the State, Regional, and National Champions, the Summit Summies! Equipment in our facility includes balance beams, uneven bars, vault, spring floor, Tumble Trak and more.
Our gymnastic instructors are USAG professional members and are safety certified.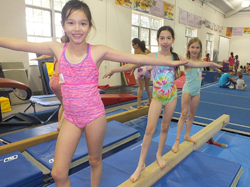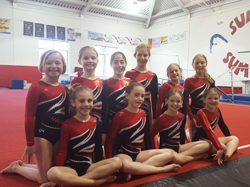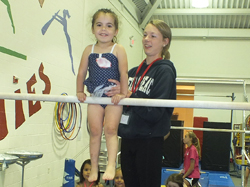 PARENT/CHILD CLASSES
Musical Movers | ages 1 – 2
"Move to the music" in this sing-a-long and movement class in the big gym for children and their caregivers.  Weekly themes with a focus on motor and sensory skills.  Bells, scarves, ribbons and other exciting props such as dance scarves, rhythm sticks, and ribbon sticks will be used.
Tumbling Tots | ages 18 months – 2 yrs
Teacher led, parent-assisted structured class that will develop gross motor skills and offer an introduction to gymnastics utilizing all of the apparatus.
Kids In Action | ages 18 months – 3 yrs
A lot of fun-filled activities, games, songs and more for you and your toddler to enjoy in the big gym.
Jungle Fun | ages 2 – 3
Join your child in using your imaginations to transform our "big gym" into the Jungle!  Explore the "terrain" and the animal inhabitants while developing balance, coordination and listening skills
 Tiny Tumblers | ages 2 – 3
Teacher led, parent-assisted class offering an introduction to gymnastics utilizing all apparatus. Class also includes brief circle time and fun movement activities. Great follow up to Tumbling Tots.
Drop In And Play | Infants – 5 yrs 
Play time in our big gym. Must be accompanied  by an adult. Space is limited. $7.00 daily passes available at the Front Desk. Non-members welcome!
PRESCHOOL CLASSES
Gym Antics | ages 3 – 4
Motor skills are developed through activities on all gymnastics apparatus. Great for children who have not taken a gym class on their own previously. All children must be potty trained.
Gym and Jam | ages 3 – 4
Gymnastics class set to music with weekly themes. Children will sing-a-long and dance to music to start each class. Instruction is provided on all gymnastics apparatus.
Flipping Flounders | ages 3 – 5
45 minutes of gym time including obstacle course, movement and coordination skill activities, and instruction on all apparatus. An additional 30 minutes of a fun, safe, and instructive pool time practicing skills including floating, arm/leg action on fronts/backs, jumping and more!
Jr. Warrior Gym Challenge | ages 3 – 4, 4 – 5 and 5 – 6 
Class in the big gym utilizing gymnastics equipment and specially designed ninja challenge course equipment for preschoolers (rockwall, cargo net, climbing rope, mini-trampoline and more). This coed class focuses on strength, agility, speed and most of all, FUN!
Preschool Gymnastics | ages 4 – 5
Introduction  to gymnastics. Flexibility, strength, balance and gross motor skills are developed through activities and instruction on all apparatus.
Hip Hop Flip Flop | ages 4 – 6
Children will be introduced to basic Hip Hop through innovative and creative movement from head to toe. They also Flip Flop through some basic cartwheels, rolls, and stretches.
Hot Shots | ages 4 – 6
By teacher recommendation only. Advanced preschool/kindergarten gymnastics class. Focus on strength and flexibility, as well as skill development on all apparatus.
SCHOOL AGE THROUGH TEEN CLASSES
Girls' Gymnastics | ages 5 & up
Basic gymnastics class that focuses on skill development on all apparatus using progressions. Strength and flexibility training will also be incorporated.
Acro-Tumbling | ages 8+
Focuses on developing tumbling skills and flexibility. Use of floor exercise mat and tumble track. Great for dancers and cheerleaders.
Elite Gymnastics | ages 8+
By teacher recommendation only. Advanced gymnastics class that will focus on skill development, strength, and flexibility. Requirements: back handspring, cartwheel on beam, pull over, back hip circle, sole circle on bars.
TOPS Gymnastics
By director recommendation only
Our talent opportunity program is for gymnasts that we feel have the potential to be on our team eventually but still have improvements to make in the areas of strength, flexibility and skill development.
*Note to Parents:
Our instructors will work to the ability of each child. For the best results and most improvement and development, gymnasts should stay in the same class for all four sessions. If a gymnast needs to be moved to a different class based on their abilities, the instructor will notify the parent.