HEART-TO-HEART HOURS
Tuesday/Thursday: 7am–12pm
Saturday: 7am–12pm
The Connection's Cardiac and Pulmonary Rehabilitation Program, Heart-To-Heart, is dedicated to the prevention and rehabilitation of coronary artery and pulmonary diseases through an individualized exercise program and lifestyle modification.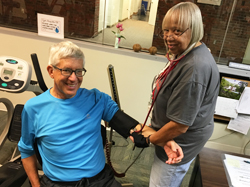 Participants benefit from a multidisciplinary rehabilitation program where they continue their exercise regimen and lifestyle modifications under the supervision of registered nurses. Participants who are ready for a non-monitored program are welcome. The program follows the physician's exercise prescription. Prospective members must be medically stable and have signed medical clearance.
As a Cardiac and Pulmonary Rehab member, you are entitled to use of the Fitness Center during Rehab hours, adult swim lessons and lap swim, and all fitness/wellness and dance classes. * Membership is required to participate in all classes at The Connection and for use of the facility.