Unlock your child's "inner artist" in The Connection's art classes. Students also learn skills often not emphasized elsewhere including visual-spatial abilities, reflection, self-criticism, and the willingness to experiment and learn from mistakes. And, it's never too early to teach kids the benefits of good nutrition and how to prepare healthy foods… and to have fun in the kitchen! Your kids will LOVE cooking at The Connection. Specialty classes at The Connection teach your child fundamental skills in a warm and welcoming environment which fosters creativity and self expression.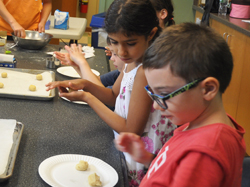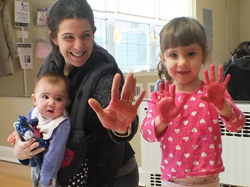 ART CLASSES
Tumble & Create | ages 2 – 3
Mixing art and gymnastics, you and your toddler will create a craft each week that reflects a new gymnastics skill. Teacher led instruction will be provided on all gymnastics apparatus.
Art & Nature| ages 6 – 12
Create your own masterpieces inspired by the beauty that is all around us, utilizing a wide array of techniques and materials.
COOKING CLASSES
NEW! Little Chefs  |  ages 2½ – 5
Get ready for a super fun hands-on culinary experience with your child! Together we'll expand their taste buds by creating healthy and yummy recipes.
Tasty Creations | ages 6 – 12
Children will have fun developing their culinary skills while making a delicious creation to eat in class.
MUSIC CLASSES
Little Musicians | ages 1 – 2 and 2 – 3
Each class weaves a story through song, dance, drama, rhythm and rhyme.  Live guitar and violin, and many instruments to play!
STEAM CLASSES
Sensational STEAM  |  ages 1½ – 3, 3 – 5, 5 – 7 & 8 – 12
Experiment with the full spectrum of age-appropriate STEAM challenges, developing valuable problem-solving skills while having a blast!
STEAM-Boats  |  ages 2 – 4
Full STEAM ahead: Investigate Science, Technology, Engineering, Art & Math in the "classroom" before splashing into the pool!
STEAM Explorers  |  ages 5 – 7
Hands-on exploration of STEAM (Science, Technology, Engineering, Art, & Math) fundamentals, expanding its application to future challenges!
STEAM Curiosity  |  ages 1½ – 3, 3 – 5
Experience the wonders and excitement of STEAM (Science, Technology, Engineering, Art, & Math) with your child as we investigate the world around us.
SPECIALTY CLASSES
Drop In & Play | Infants – 5 years
Play time in our big gym. Child must be accompanied by an adult. Space is limited. Passes available at the Front Desk. Mon., Wed., Fri. 12 – 1pm & Sunday 11 – 12pm and 12 – 1pm. Non-members welcome!
Mini and Junior Warrior Gym Challenge | ages 3 – 4 and 5 – 7
Class in the big gym utilizing gymnastics equipment and specially designed ninja challenge course equipment for preschoolers (rock wall, cargo net, climbing rope, mini-trampoline and more). This coed class focuses on strength, agility, speed and most of all, FUN!
Warrior Gym Challenge | ages 8 & up
A coed school aged class that will use strength, speed, and agility to complete a specifically designed ninja course. Ninja specific equipment will be used.
NEW! Messy Morning | ages 1 – 4
An extended morning of mess-making with your child! Enjoy your snack when you two need to refuel for more fun with the water table, arts & crafts, rice pool, and more!
NEW! You & Me Yoga | ages 1½ – 4 & parent
Share this healthy practice with your toddler, observing the growth of their body awareness and concentration.
Kids Yoga | ages 4 – 12
Develop flexibility, coordination, strength, and balance.
NEW! Jump & Climb | ages 1½ – 3 & parent
An exciting class for you and your child to experience the fun obstacle course, as well as activities and games in our "big gym"!
Kids In Action| ages 2 – 3 & parent
Fun-filled activities, games, songs and more for you and your toddler to enjoy in the big gym.
NEW! Little Movers | ages 1 – 3 & parent
Join your child in exploring the "big gym", developing balance and coordination, while having fun with new friends!
Kicks for Kids | ages 4 – 6
Pre-Karate class focusing on flexibility, agility, balance & fun.
Karate/Self-Defense | ages 7-15
Health, movement and self-defense. Time and skill requirements are outlined for each belt advancement.
NEW! SLIME-ology | ages 8 – 14
Indulge in the messy and fun study of all that is squishy, oozy, moist and slippery (with a different recipe each week!)
SPECIAL NEEDS
Young Athlete Special Olympics Program| ages 2½ – 4 and 5 – 7
Co-sponsored with the NJ Special Olympics, this program emphasized sports skill development in physical activity and play. Programs develop the fundamental prerequisite skills to prepare students to be future athletes.
S.N.S.L.| ages 3 – 6, 7 – 11 and 12+
Our special needs swim lesson (S.N.S.L.) provides 45 minutes of instruction provided by our trained staff and volunteers. This program is designed to teach and improve each student's swimming skills while working in a group environment to improve their focus, comfort, and overall understanding of safety in the pool.
Yoga for Special Needs| ages 5 – 12
Fun stretches and poses designed to engage the body, mind and spirit. Modifications provided as needed.
Dance Foundations| ages 5 – 9 and 9 – 12
Children are introduced to basic dance techniques through innovative and creative body movement. Individualized modifications to activities will be made as needed.
Teen & Young Adult Socials| ages 13 – 30
Teens and young adults meet twice a month for an evening of fun and camaraderie on the following dates: September 14 & 28, October 5 & 19, November 2 & 16, December 7 & 21, January 4 & 18, February 1 & 15, March 1 & 15, April 12 & 26, May 10 & 24, June 7.
Adapted Aquatics| age 3 – Adult
This one-hour program provides individuals who are physically or intellectually challenged the opportunity to use the pool for exercise, learn basic swimming skills, be part of a social group, and play games while having fun in a safe aquatic environment.