The Connection's Therapeutic Fitness programs help recovering cardio and pulmonary patients, individuals with Parkinson's and osteoporosis, and women recovering from cancer improve their quality of life with fitness programs specialized to their needs.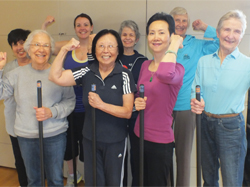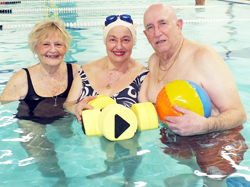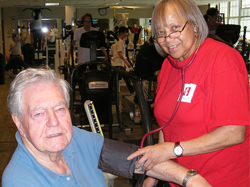 THERAPEUTIC FITNESS CLASSES AND PROGRAMS
Aqua S.P.A (Special Population Aerobics)
An aquatic exercise program designed specifically for people with arthritis, osteoporosis, and related health concerns. This program uses gentle activities in the pool to help increase joint flexibility and range of motion, to maintain muscle strength, and to increase stamina.
Exercise for Parkinson's Balance
Vigorous but modified exercise to manage symptoms of Parkinson's and Balance disorders taught by Physical Therapist with LSVT training. Enhance balance, muscle tone and posture. Registration, Doctor's Note and a certain level of ambulation required.
Gentle Yoga: for Women with Cancer
This slower-paced class led by Jana Huba promotes a sense of well-being through the use of modified pose positions that accommodate the challenges faced by survivors after cancer treatment. Learn calming techniques. This class is a part of Pathways, a program which provides support, education and wellness classes to women with cancer. Registration is required.
Heart-to-Heart Program
The Connection's Cardiac and Pulmonary Rehabilitation Program, Heart-To-Heart, is dedicated to the prevention and rehabilitation of coronary artery and pulmonary diseases through an individualized exercise program and lifestyle modification. Participants benefit from a multidisciplinary rehabilitation program where they continue their exercise regimen and lifestyle modifications under the supervision of registered nurses. Participants who are ready for a non-monitored program are welcome. The program follows the physician's exercise prescription. Prospective members must be medically stable and have signed medical clearance.
SisterStrong: for Women with Cancer
Participants will engage in a combination of light fitness with weights and bands and exercises to improve range of motion and core strength. In addition, simple relaxation and stress management techniques will be introduced and practiced. This class will be led by S.T.A.R. Certified Physical Therapy Assistant, Heather Ferrara of Overlook Medical Center. This class is a part of Pathways, a program which provides support, education and wellness classes to women with cancer. Registration is required.
Strength Training for Osteoporosis
Exercise safely in order to strengthen muscles and maintain bone health, improve posture, and enhance balance. Work with chairs, free weights and bands. Written MD clearance and registration required.
Prepare, Sustain, and Recover
This water exercise class includes gentle movements and exercises in the pool that will improve mobility, strength, breathing, and relaxation. Appropriate for those looking to prepare for surgery, just returning to physical activity, wanting to reduce pain, and/or improve overall day to day life.
Yoga for Parkinson's Balance
A gentle adaptive yoga class for adults with Parkinson's disease. Taught by an Overlook instructor with specific training. Written MD clearance and registration required.