Pathways, a program of The Connection, provides support, education and wellness programs for women with cancer, creating a community in which shared experiences lead to personal growth and healing. Pathways is committed to empowering women to recognize their strengths and encouraging them to make choices that enable them to become their own self-care advocates. Pathways is one of the only local organizations that provides direct services to women with cancer.
Programs are available free of charge to female cancer survivors. Please call or email Lesley Andrews to inquire about our programs (908) 273-4242 ext. 154 or pathways@theconnectiononline.org. Registration is required for all programs, classes and events.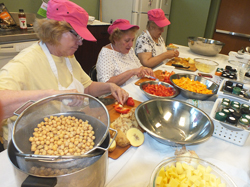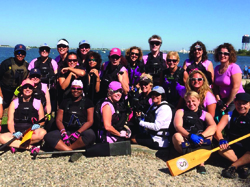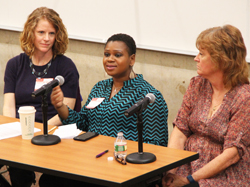 SUPPORT
Breast and Gynecological Cancer Support Groups
If you are interested in joining a breast or gynecological cancer support group, please contact Lesley Andrews.
EDUCATION
Pathways Women's Cancer Teaching Project
Breast and gynecological Cancer survivors educate residents and medical, nursing, physician assistant, pastoral care and undergraduate students about the perspectives, stresses and needs of women with cancer, enabling them to become more empathetic and interpersonally effective at providing care. The Project also empowers women with cancer to make meaning of their disease and find support among their fellow educators.
WELLNESS
Gentle Yoga
Tuesday evening & Saturday mornings
This slower-paced class led by Jana Huba promotes a sense of well-being through the use of modified pose positions that accommodate the challenges faced by survivors after cancer treatment. Members of the class reach a higher state of relaxation while learning simple calming techniques.
COMMUNITY SERVICE
Pathways Cooks
Tuesdays and Wednesdays 1-4pm
Cancer survivors and other community members prepare, cook and deliver nutrient-rich, whole foods meals to women undergoing cancer treatment and their families. Drivers and donations needed.
Pathways Financial Assistance Fund
Limited aid provided to women with cancer who are medically under-served, uninsured or who demonstrate financial need. Pathways will help pay a medical or other bill on a one-time basis. Donations needed so that assistance can continue.
Thank You, Pathways donors!
Click here the Spring 2017 Pathways Provider
Thank you to the many local organizations which generously supported Pathways!
Beacon Hill Club Ladies' Soiree
The Beacon Hill Club in Summit hosted a fundraiser – the Beacon Hill Club Ladies' Soiree – on May 6. Thanks to the vendors below who contributed items and services for silent auction or raffle and the attendees, $4,355 was donated to Pathways!
Bar Method
Beacon Hill Club
Bonnie Jennifer Jewelry
B-Skinz
Equinox
Hair Salon
J.McLaughlin
Momentum Cycling and Fitness
No. 18 Boutique
Plumm NYC
The Holly Collection
The Strand Tennis Center
The Woodhouse Day Spa
Valerie Grant Interiors
Soroptimist International of Suburban Essex
Soroptimist presented Pathways Cooks on May 18 with the prestigious Ruby Award for Cooks' work toward improving the lives of hundreds of women undergoing cancer treatment and their families. Soroptimist also generously donated $500 to Pathways Cooks.
Salon Capelli
Pathways is so grateful to Salon Capelli, located in downtown Summit, for holding a cut-a-thon on July 7th. 100% of the proceeds were donated to Pathways – $900!
Thank you to the following organizations for their support through grants, donations and/or matching gifts:
Junior League of Summit
Head Family Charitable Foundation
The Blanche and Irving Laurie Foundation
Stad's Crabfest Inc.
The Smart Family Foundation 
JustGive
The Pfizer Foundation
The Merk Foundation
IN THE NEWS
OTHER HELPFUL LINKS