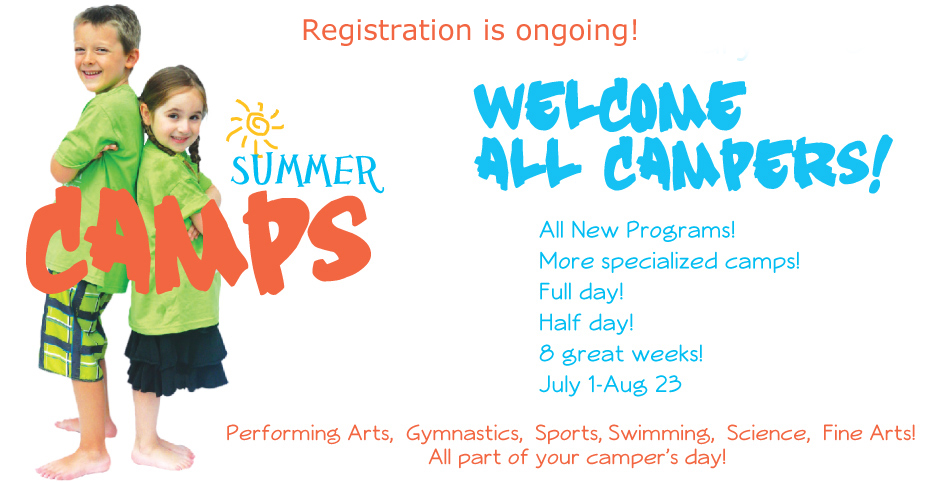 The Connection's Summer Day Camps are about making friends, gaining self-confidence, learning to work together and having fun while making lifelong memories!
For more than 90 years, The Connection has provided children with new and rewarding experiences! Day camps at The Connection bring together children of all abilities, backgrounds and economic circumstances. Specialized camps and programs include: swimming, gymnastics, performing and culinary arts, sports, outdoor play, games, fine arts and crafts. Full and Partial Scholarships are available for all classes and activities at The Connection, including camp. The Connection is licensed by the State of New Jersey and all of our staff is certified in American Red Cross CPR and First Aid. Our Aquatics staff is also certified in Lifeguard Training and Water Safety Instruction.
CAMP WEEKS & DATES

WEEK 1: July 1 - 5 (no camp 7/4)

WEEK 5: July 29 - Aug 2

WEEK 2: July 8 -12

WEEK 6: Aug 5 - 9

WEEK 3: July 15 -19

WEEK 7: Aug 12 - 16

WEEK 4: July 22 - 26

WEEK 8: Aug 19 - 23

 

ALL DAY OPTION | SAVE $70
8:30 am-4:30 pm | Ages 4 & up

For the camper who wants to have a fun filled day. Combine SummerFun Camp with any afternoon weekly camp and you can save up to $70! Daily Travel Camp not included. Afternoon camps include Fit & Fun, Girls Gymnastics or Lights! Camera! Action!

SUNRISERS
7:30-8:30 am | Ages 3 & up | $70 /week
CAMPERS CLUB
4:30-6 pm | Ages 4 & up | $75 /week

For those who need the early drop-off option, Sunrisers is for you! A great way to start your campers' day! Your child will be escorted by our staff to his/her appropriate camp.

Wrap up your camper's day with a quiet afternoon that may include board games, drawing arts and crafts and outdoor play.

SUMMIT SUMMER CAMPS
With Financial Aid
A wide variety of Summer Camps in Summit offering Financial Assistance. Download PDF (English & Spanish).
The Girl Project for Girls 11 - 14
Co-sponsored by Reeves-Reed Arboretum & The Connection. Download PDF.